Discussion Starter
•
#1
•
Hi, new to this site, KTM, and supermoto stuff but I had enduros before, just bought a 2008 690 SMC about a month ago, just started riding it now that the weather warmed up and it stopped raining. I've already installed the euro style rear fender to replace a badly hacked up stock fender, replaced missing mirrors and I changed the oil and all the filters/screens.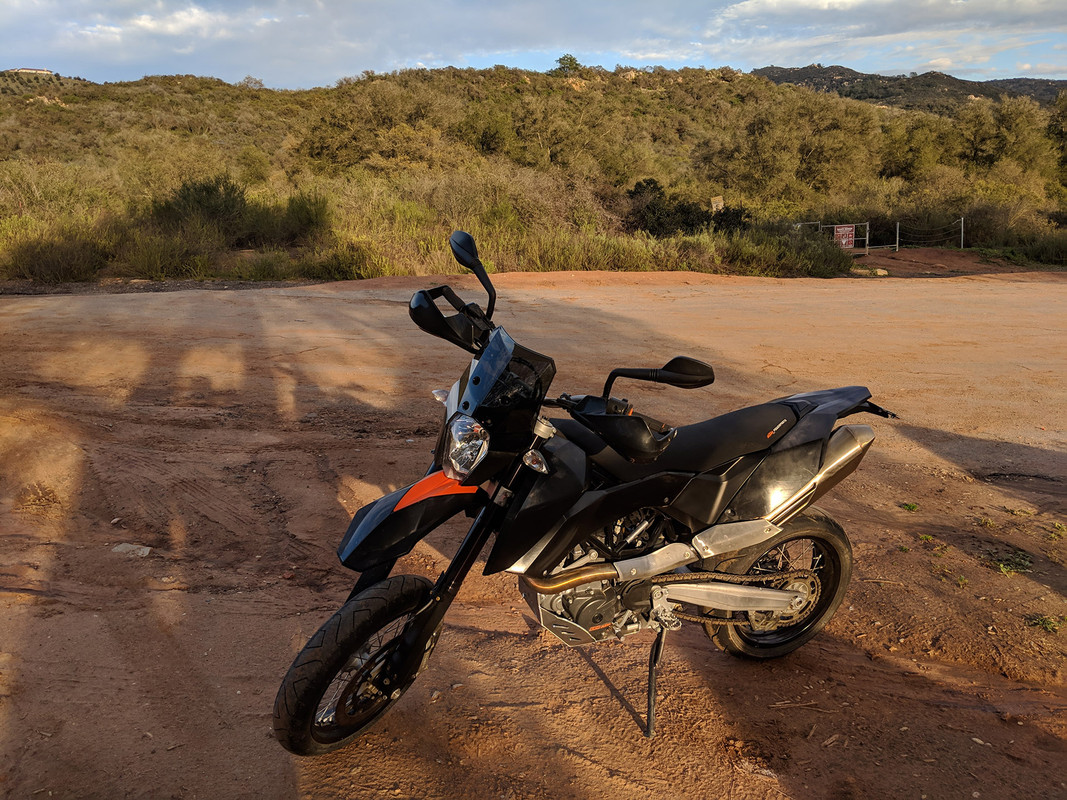 Bike is pretty clean for the age and very low mileage (around 5000 miles when I bought it) but has some issues, the front fork seals have a slight leak so I am going to fix that next, I'll get new tires, chain and sprocket and re-lubricate all the bearings and replace the seals. I should probably bleed the brakes as well. I was surprised by the fork seal leak on a low mileage bike though I knew it had this problem going in and got a good deal on it accordingly.
The real headache has been the gas tank. It's swollen, the new rear under-fender did not line up with the mounting holes, they were off by almost a perfect 1/4" on each side, which confused me for a while, I had thought there was just some model year or euro vs. US part difference until I realized other stuff attached to the tank wasn't lining up either, and then I read about the swelling problem. I ended up drilling out the holes in the under-fender/tail light mount piece and epoxied sections of thin 1/2" aluminum tube stock into the plastic in a different location so that it would have mount holes in the "right" places to line up with the holes on the tank.
It also weeps fuel from around one of the mounting holes, where the metal threaded inserts fit into the plastic tank, which I tried to seal with epoxy as well. I've read a few threads about this here and on other forums complaining about it but I haven't figured out what the common route to fix the issue is... And all of the threads I found were at least a few years old. I've figured out a short term solution to this but I feel like I need to do something more about it before the problem gets worse, I'd also like to have plastics that line up correctly.
What are people doing about it? The new tank is $1300 and who knows where they even have one. Should I try to contact KTM and complain? It's a 10 year old bike but this is kind of a serious safety issue. I guess I could try to find a used tank from a region that did not have ethanol in the gas, if that really is the cause of the swelling. Well, the bike has lived in California its whole life where the gas has had ethanol for many years now. I did read that some people said they have bought used tanks that were not swollen. I guess I could also try to figure out if tanks off a newer bike fit. I have also removed the carbon canister so without backpressure hopefully it won't swell more.
I've also got the typical dim speedometer digits which I was going to try to fix myself, I've fixed car gauge clusters before, unless KTM will provide me with another one for a reasonable price. Their west coast office in Temecula, CA is near my house... I've also read mixed reports on whether you can argue for a free replacement on a bike out of warranty on the grounds that this is a serious safety defect.
Aside from that I plan to replace the factory exhaust or maybe just buy a non-cat slip-on, the stock one already burned my hand and I suspect it is part of the problem with the gas tank since it gets so hot and is so close to that tank. I also found the exhaust nuts at the head were finger tight, so fixing that exhaust leak did seem to make the bike run cooler and less lean.
So anyway, I'm looking forward to riding this summer learning more about this bike. Does anyone else feel like there are common issues with these that don't get talked about much? I am already aware that a lot of people don't like the factory exhaust, factory tune, and that the speedometer issue is common. I also plan to get a Seat Concepts seat.