Discussion Starter
·
#1
·
I was posting in the New Riders section but this thread seems more fitting here.
History so far (i'll keep it short):
I have been building and riding Harleys for about 3 years and I have always loved sportbikes and dirtbikes as well so I said fuck it I'll make a Supermoto. I bought a used 2003 CRF450R that was a little beat up but still stock for $1600 a week ago with the intentions of keeping it a dirt bike and slowly build collect parts for a SM. I will never take a bike on the track so I am building this purely for fun meaning Urban shredding.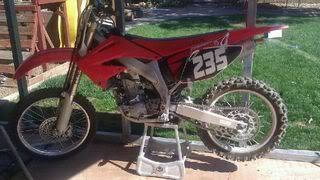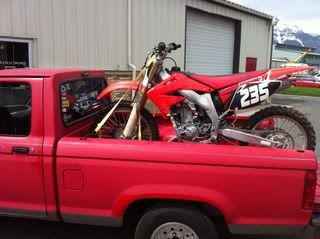 2 Days ago I found a local ad for a SM setup for an '06 CRF450R that had Warp 9 wheels, rotors, sprocket, tires, and a full Baja Designs street legal kit for $800. The ad had been up for a while so I offered him $650 and he quickly replied "sure." Which means I could have gotten it for $500 I'm sure but oh well. Met the dude and everything was there including a stator so I paid the man. I found out after I bought everything that everything including the stator should bold directly onto my bike with only smal modifications. Yessssss
I had today off of work so I dove right in. Being the guy I am I hardly ever use instructions but today I admit they did come in handy 1 or 2 times. The wheels I soon descovered after purchasing them are in fact Warp 9 rimes laced to stock hubs painted red but if I thought I was going to need anything more I would have just sprung for a Talon/Excel set up so I'm fine with it. I ran into 2 "major" hiccups while mouting the wheels though, 1. the front aluminium axle nut is stripped and wont tighten down enough to pinch the forks together that last 1/16" needed to space the wheel properly. Also the axle itself was flared a little on the other end so it wasn't flush with the clamp. Should I grind it and make it flush? 2. the rear tire (140/70/17) is rubbing on the O-ring chain that is installed. I plan on getting a 530 chain and a 130 tire when I can afford it so that should turn the rubbing into a slapping which I feel like I can deal with.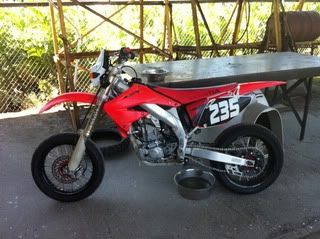 As far as the wiring goes it was very straight forward and easy. The Stator which I thought was going to be a nightmare was actually very easy to switch out and only took a small amount of splicing. The only night mare was having to go back to the dealer 3 times because they kept giving me the wrong gasket. It's nice to see that it's not just Harley dealerships that are filled with idiots for employees.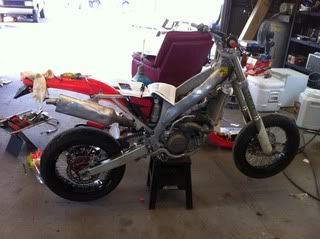 I have the bike all the way put together now and everything works just great, even the bitchin horn, but I forgot to take a picture. Plans for the near future are (but not limited to) new silencer, new chain guide and swingarm guard, drop to 48T final drive sprocket, new chain, new rear tire, maybe new plastics, new radiators since they are kinda smashed, and of course get it registered.
Give me some feedback or whatever, I value any and all help.