Discussion Starter
·
#1
·
This isn't the first thread on this subject. The first one I saw was something along the lines of "Tubeless for under $10". I thought the idea was great, so I decided to try it on a set of wheels. Now, between my dad and I, we have 5 sets done with no problems, and will be doing a 6th set before the Summit Point track day on the 24th. With the price of tubes, and the potential for pinch flats or flats from sharp objects or wear from friction inside the tire, tubeless is a lot less hassle in the long run. As far as adjusting spokes... haven't had to do that with any of my sets, so I can't answer that particular question. In the event that tightening becomes necessary, it only takes a minute to dismount the tire and peel the old silicone and tape off. On to pictures and instructions...
Drill your valve stem hole to accept a bolt-in type valve stem. The ones I use are from O'Reilly Auto Parts and are chrome plated steel with a rubber sealing surface. Bolt valve stem in new, larger hole.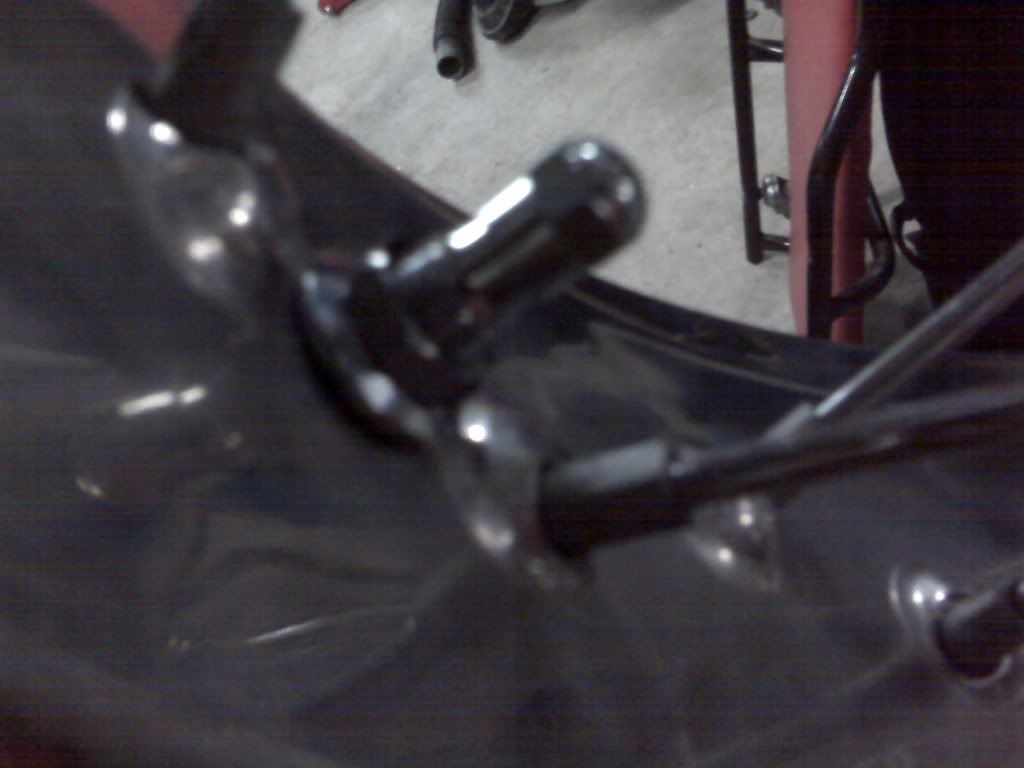 Put wheel on a piece of rod in a vise to prep for silicone and tape. Remove rim strip or tape off of nipples. Use brake clean and a rag or paper towels to clean the drop center and nipples. Hit the bead seat area while you are at it, if dirty.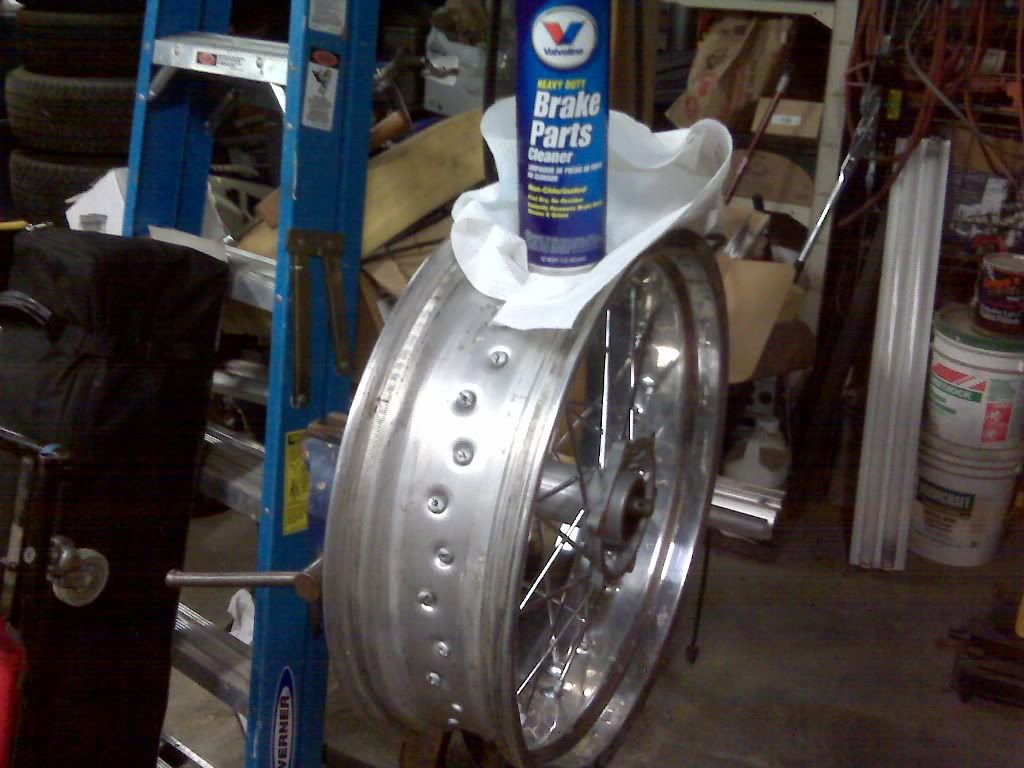 Apply Type 2 Silicone to the nipples in a about a 1" diameter circle. I use GE Window and Door Clear Type 2 Silicone from Lowes. It says "Sun/Freeze Proof" on the tube.
Note the size of the blobs. Doesn't need to be any bigger than that. Make sure you get good coverage.
Put a little around the valve stem for good measure. Just a little!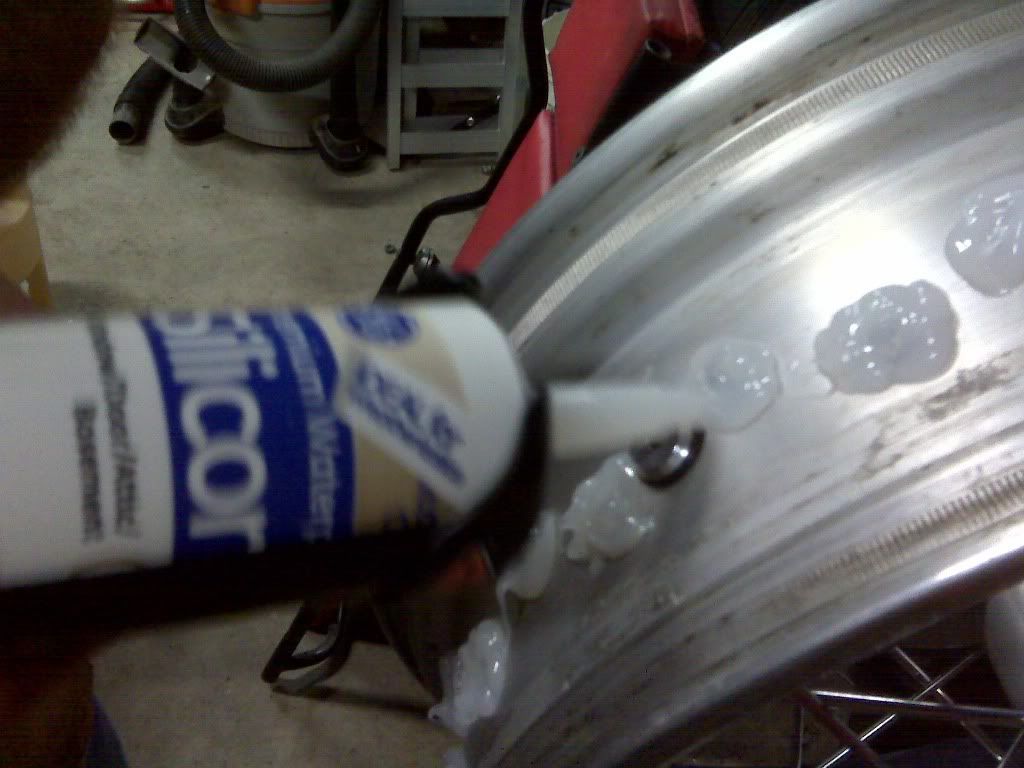 Take Gorilla Tape and start your wrap in the center of the drop center, over the spokes and silicone, starting in the correct direction so the tag end passes the swingarm last in the direction of travel.. Pictured is a 5" wheel, 4.25" rears and 3.5" fronts will be easier to cover. Do one revolution in the center, one revolution to the left, and one revolution to the right, keeping it in the drop center. When done, cut the tape.
NOTE: I ONLY use GORILLA TAPE. It is VERY sticky, and I have found that in normal conditions, it isn't likely to come unwrapped.
If it does, the adhesive stays put and the backing comes off. Never seen it come undone more than 6 inches, and it never created a problem. Oh, put the Gorilla Tape on when the silicone is still wet!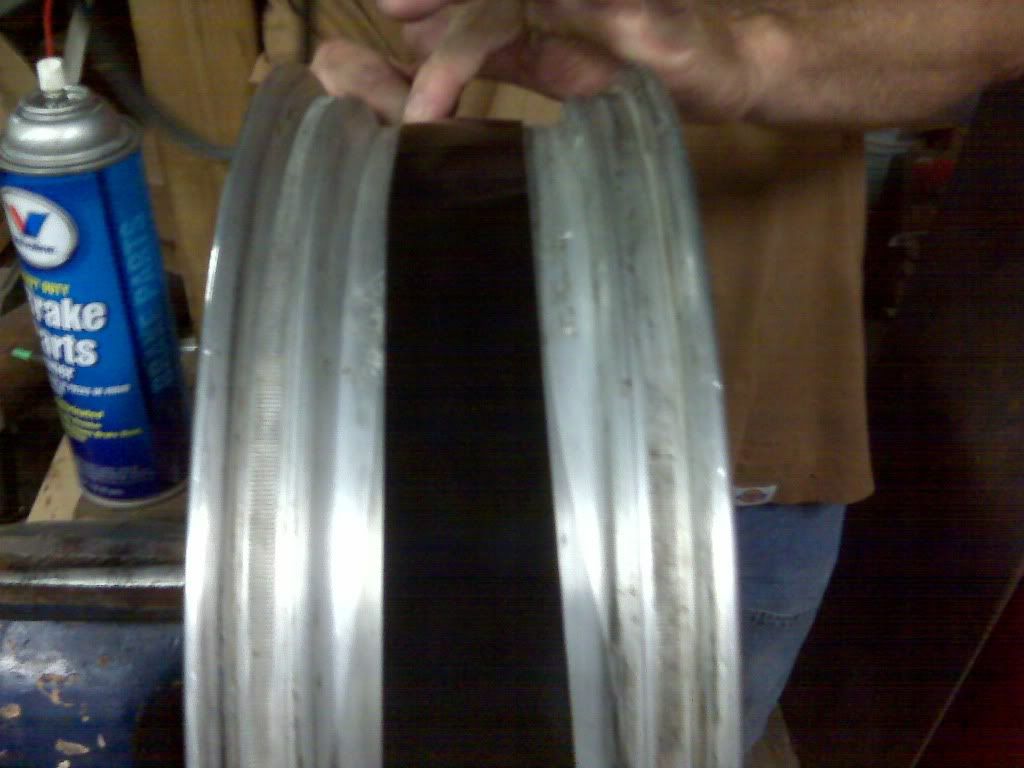 Rub down Gorilla Tape well with your hand.
Cut hole through tape for the valve stem. Do more than just a poke with a drill bit, it can and may seal back up partially and make adjusting tire pressure difficult or impossible without removing the core and re-poking the hole. (Shameless plug for one of my CRKT designs doing the cutting :thumbup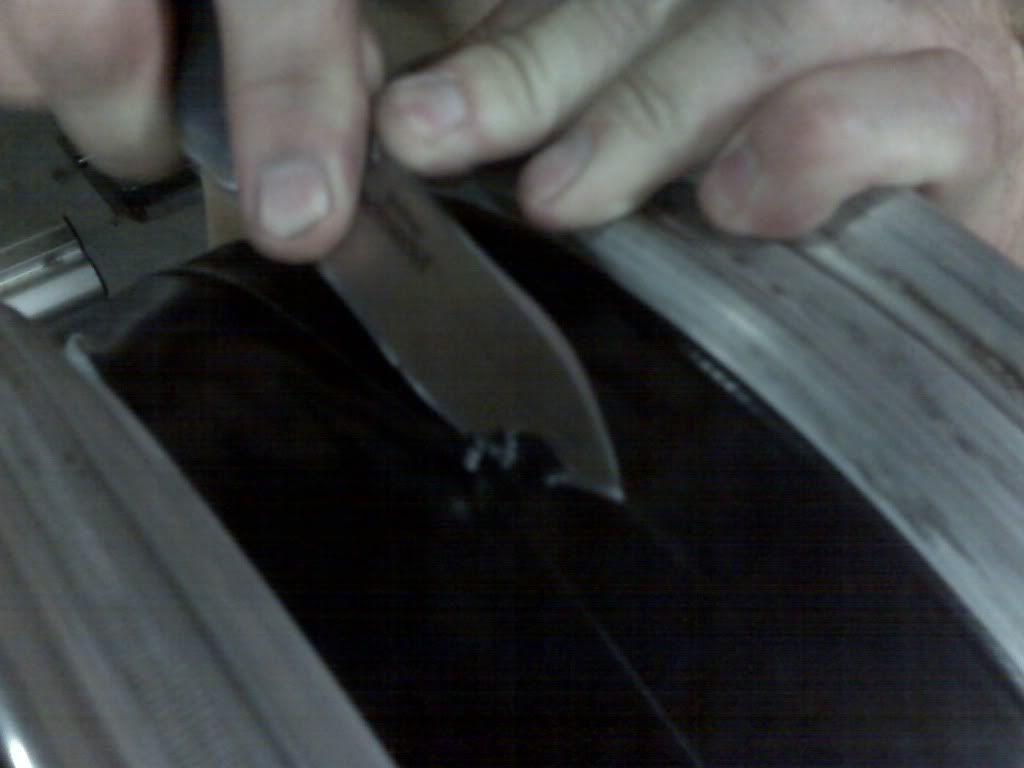 Mount tire, preferably soon after adding the tape. Theory is, as thought of by Goosedog, that air pressure drives the tape, and thus the silicone, deep into the crevices between the rim, nipples, and spokes before it dries.
Pushed on
Ready to pull around to mount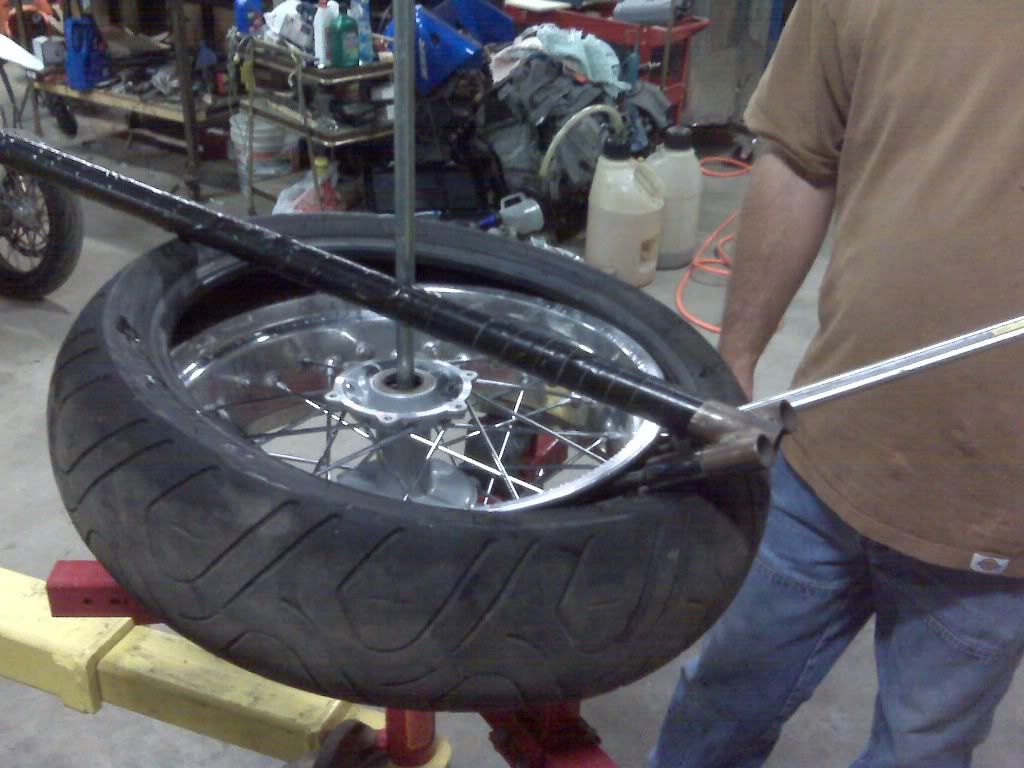 Once tire is mounted, seat the bead, record pressure, and check pressure with the same gauge the next day if you would like to check for leaks. The method I have been following has been so reliable, I haven't ever had a leak.
Mount it up to your bike and go ride! :bannana:
Word on tire changers: If you change more than a couple sets of tires a year, get one. Harbor Freight sells one that makes a good base for modifying. I wouldn't use it in stock form, but with a little tweaking and some delrin blocks, it can be made into an incredibly useful machine. For $50 and some time, it is very worth it. If you ahve a lathe and a welder, you can use Delrin and steel tubing to make a mount/dismount bar too. I made mine similar to the No-Mar bar. Or, you can buy a bar already made from them. My days of messing with tire irons, rim protectors, and scratches from carelessness are over... not sure how I got along without a changer before. Changes are now done in a minute or less, as opposed to a couple, with 2 people bitching and moaning the whole time. :lol:
Hope this helps some people out, and answers questions or suspicions people have about the process! If you have any questions, post them up.
Gerry