Finished my dream bike, 450 Devtech smr! (more or less, always some small things left!)
Thanks for letting me share! Full spec list below! 😊
Also pictured with my 525.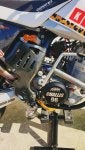 Engine:
450 smr MTR engine. -
close ratio gearbox, titanium valves, hi comp piston, lightweight flywheel, smr ignition, ported, gas flowed etc. 53.5bhp.
Adler KTM power parts slipper clutch.
HPI twin map smr CDI.
41mm carb -
Mino powerbowl, deep drain bolt + powerblade.
(K&N cone filter).
Silmoto titanium twin exhaust system.
Chassis:
Devtech frame (Suter) with adjustable rake headstock. Revised strength/flex and geometry settings. - 13 produced for ktm World championship 2006, 6 frames came to the UK.
Devtech swingarm, type 1.
Factory titanium subframe & Carbon fiber airbox.
SMS clamps 7.5/11mm offset, with KBR solid cnc stem.
Factory closed cartridge fork. (not sxs).
Trax shock. - KBR suspension.
Titanium shock spring.
Alpina carbon fiber wheels.
Brembo 108mm gp spec caliper &
Brembo 16x16 billet master cylinder.
Titanium wheel & swingarm spindles.
Other parts:
GMX 'factory' aluminium sm tank. (6 produced).
Factory billet brembo clutch master cylinder + lever, with titanium hardware.
Oberon slave cylinder. (double oring, billet)
SP quickshifter.
Sxs sandcast clutch cover.
Sfb billet ignition cover.
GMX silicone hoses.
Custom carbon airbox panel.
All round HEL braided lines.
Sxs billet rear caliper.
Quick release rear brake pin.
Ultima billet brake pedal.
Domino quick action throttle.
Raptor titanium footpegs & titanium footpeg pin.
GMX oil breather, water and carb hose catch tanks.
Ktm carb hose catch tank.
Pro carbon frame guards + bash plate.
Hpds bar clamps.
00-03 kickstart.
Sxs rear brake disc.
Ktm 'braking' offset front disc.
R&G crash bobbins
Various titanium bolts, shock bolts, engine mounting bolts, rear brake pedal bolt, subframe bolts, other small bolts.
Various powerparts - bars, oil filler cap, brake resovoir caps, oil filter caps & clutch slave protector.
Running AIM mychron lap timer/data logging with LAPTA expansion box settup. -
Coolant temperature sensor.
Cylinder head temperature sensor.
Throttle position sensor.
Front and rear tire temperate sensors.
I used some cable ties.
There is a sticker of yoda inside the airbox.
Bike has only been used for 40 minutes of riding since 2006 and is pretty much new/immaculate all over. All new fluids + suspension serviced ready to go for 2021.
Thanks to LR designs for the graphics & seat cover.
Thanks to Howdens kitchens, KIS racing & GoonSquad racing for sponsoring me this year.
Thanks for reading! 😊