Discussion Starter
•
#1
•
First off not sure if I'm "allowed" to spell it huskvarna since that's super old school, but I'm doing it anyway so there!
Second of all... I have been dying to ride my hot rod for months now so I hope you true Huskvarna homies can appreciate the self control I had to slowly put this together and take pics at the same time. Anyway here we go...
First off I do hope if you are rebuilding your engine you replaced all bearings, seals, gaskets ect. So it goes without saying that all of the items were replaced good or bad. Cheap piece if mind. It also goes without saying that All bolts are installed using loctite 243.
I also wanta address a few important things before we start assembly.
The crank spacer. Hopefully you measured you crank before you sent it off for rebuild so they can press it back together to the same dimensions. If not you will need to do some measuring.
Ok these are the main bearing retainer screws. The flush ones are recommended. The raised ones might rub the crank, might not. I'm rebuilding two engines right now. One rubbed one didn't. So I just replaced them all you wil find this out when to install the crank into the right case.
Here are the primary shaft bearing retainer screws. They are very short. If long ones are used you have a good chance of them sticking out the back and causing the starter gears to lock up.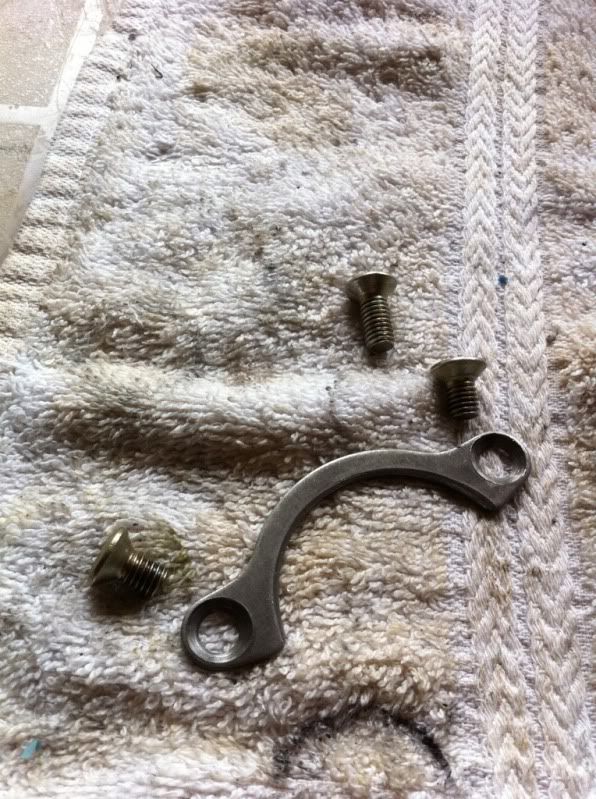 This pic shows what the long screw looks like installed.