Discussion Starter
•
#1
•
first off, i couldn't have done this without the thread posted by Blome about 625 smc tips and tricks. going from his thread and advice, i removed my rear stock signals and plate frame and used the outer bulbs of the tail light as signals. to do this you will need to buy a new socket for the center bulb of the tail light as well as an 1157 bulb to go into the socket. the reason for this is the stock main bulb only has 1 filament, where we want it to shine at half bright as a running light then fully bright as a brake light. the 1157 bulb has 2 filaments for this reason. the socket i bought was a Conduct Tite 85822 with 3 wires (must have 3 wires, 1 for running light, 1 for brake, 1 ground). i found the bulb at an Advance Auto Parts. i started with the signal lights.
first, cut off the rubber wire protector to get to the wires inside. IF your bike is wired like mine, an '05, then the purple wire powers the left signal, the black wire powers the right signal, and the brown wires are grounds. cut all 4 of those wires wherever you need them. cut the white wire to the outer left tail light bulb and splice the purple one to it (don't mess with brown), cut the white wire to the outer right tail light bulb and splice the black one to it (don't mess with brown). now you should be able to test your signal lights and the used to be tail lights should flash as signals.
now the main socket. the socket i bought was a close fit, but i had to take wire cutters and pliers to break and bend the hooks to fit the hole in the tail light (not as bad as it sounds, you can get it). then it is pretty straight forward, the black wire from the socket is the ground (run it to any brown wire (such as the old running light ground)), splice the yellow wire to the green and white wire (the brake's power wire), and splice the brown wire of the socket to one of the two white wires that used to be run to running lights (outer bulbs of stock brake).
all said and done, you should have two outer bulbs that work as signals and a center bulb that works as a running light and brake light.
hope this information helps.
the socket i bought
how i had to bend the hooks
splicing in the brake light
jumble of wires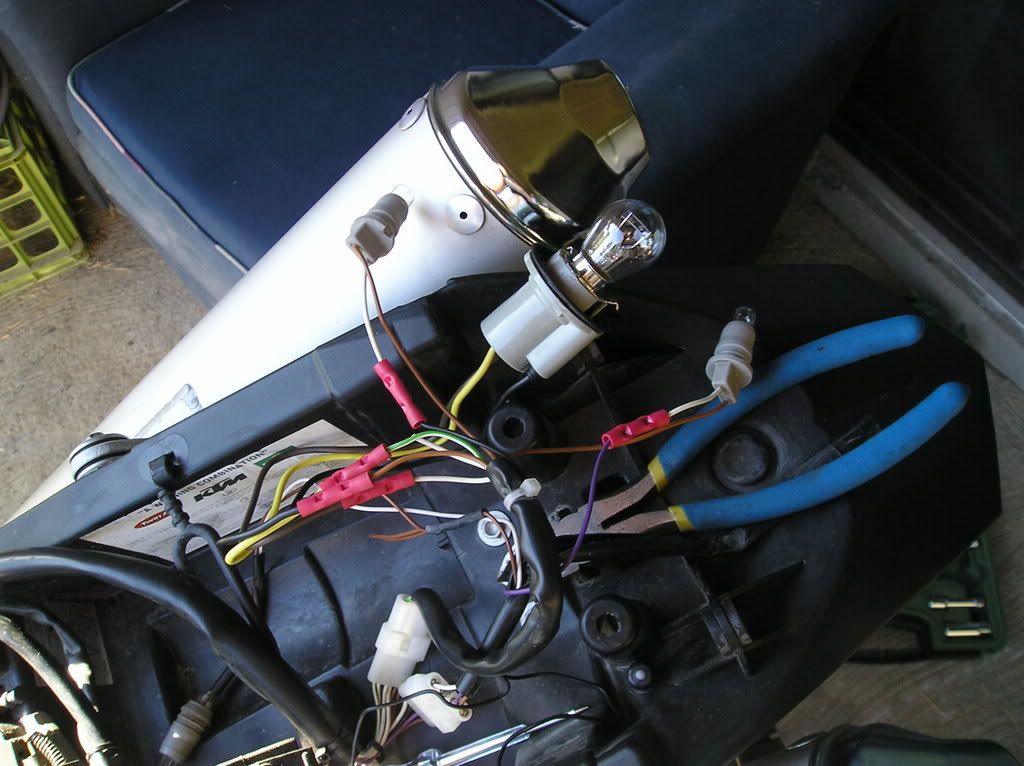 finished product