Discussion Starter
·
#1
·
I've always loved the Honda XR's and even before I could drive a car I wanted one. A little more than 10 years later, I'm done with college, I landed a good job, and now is the time for more toys. I bought my Yamaha R6 that I absolutely love (I missed my FZR600 so I had to get another street bike), and a month later I got a XR250R, and a month after that I bought a super nice, low mile (2,XXX miles), one owner, meticulously maintained XR250L for a really great price.
But enough of the background info, here's the plan. I love bikes, dirt, street, and now supermotos too after reading about them. I love things that are "different" too. I wanted to build a XR250L into a supermoto bike without paying more than I paid for the entire bike itself. After a lot of research and reading here through the forums I signed up and am going to describe how I'll be going about this. Maybe I can do this as a How-To budget build article too sometime.
The 17" wheel and tire kits are sooooooooooo expensive, and more than I paid for the bike, so that's out of the question. I didn't want to dump a fortune into a 1990's bike and I didn't want to do anything that was permanent that couldn't be undone. This post was extremely helpful and I actually got the front wheel and spokes from a Supermotojunkie member.
http://www.supermotojunkie.com/showthread.php?58851-Re-lace-front-hub-with-a-stock-18-quot-rear-rim
So here's the rundown:
-I bought the front wheel from a Supermotojunkie member which is an early 1980's CR250 rear wheel (36 spokes, 18"x2.15") that was powder coated gloss black with a set of Buchanan stainless steel spokes. I will be lacing that up to my stock XR250 front hub. I will save the stock front wheel and spokes in a box if I ever decide to put it back to stock form.
-I thought about using the stock rear wheel which I believe is 18"x1.85" or 18"x2.15" but then I thought that it might be a bit too narrow for a 130 rear tire. Plus I want the rear wheel to be powder coated gloss black to match the front, so I didn't want to have that done to the stock rim just because if I ever want to put it back in stock form. I ended up getting a great deal on a Moose 18"x2.5" 32 spoke rear wheel, which I will have powder coated in gloss black. Two reasons that I chose the Moose rear wheel is that 1) I've heard great things about them and the aluminum that they use. 2) I didn't want to use an Excel wheel because they use larger diameter spokes and nipples (4mm or maybe larger I believe) and they would not be able to be fitted onto my stock rear XR250L (cush drive) hub unless the spoke holes were drilled out. And I didn't want to do that because as I mentioned previously, in case I ever put it back to stock form. The Moose rim allows you to use OEM or Moose brand spokes. I'll probably get some new ones since I'm taking it apart anyways.
So now I have all of my wheel and tire situation taken care. After riding my XR250R around the yard and being shaken all up with the stock steel handlebars, I decided that a nice set of Renthal aluminum bars for the XR250L were a must have. I scored a nice set for a good price with some Acerbis hand guards on them. Hopefully these will help keep the vibration down compared to the stock steel ones.
Next up is body work. All of the stock decals are coming off because I love a clean look. I also love the color white on bikes, cars, and trucks. I am going to do the bike up in black and white with a silver frame and polished stainless spokes. I've got a Cycra front supermoto fender on the way and I'm going to get a black seat cover. I want to do a MX style rear fender with a LED taillight and turnsignals that will mount under it, but I'm not sure what route to go for the fender as of now. I know Maier makes a MX style rear fender for the 88-95 XR250, but it's kind of pricey and a bit bulky looking. I heard people swap fenders but I don't know what will fit so if anyone knows I'd appreciate the input. I'll be swapping out the headlight and shroud with a sleeker Acerbis unit or something along those lines.
As the performance goes, the XR250L is tuned down compared to the XR250L for emissions. The guy I bought it from did everything to change the performance of this bike, and he used it more for the street than the dirt. He put on the larger XR250R header and pipe, a Mikuni flat slide carb on it, the Wiseco 280 Big Bore kit, K&N air filter, stiffer fork springs, and a stiffer rear spring. That's just fine for me since I'm not a super big guy (around 5'11" 165lbs) and it'll move along well.
I've spent a lot of time on here and ThumperTalk and I just wanted to thank everyone for posting all their useful information on here. I wouldn't have been able to even think about beginning this project without you guys. I'll be posting many more pictures as the project progresses. I'm starting it next weekend and I have many of my parts being shipped in as I type this. I think this is going to be a fun little project and it'll be an extremely nimble, and extremely durable little bike. Plus it'll be very unique and it'll be a blast to ride to bike nights and still be able to carve up the canyons. Now I have some questions for everyone (I'll probably have many more along the way of the build).
-Do I use an inner tube when I mount tubeless street tires on my spoke wheels?
-Do I need to have the tires and wheels balanced?
-Does anyone know any other rear MX style fenders that would fit a 88-95 XR250?
The bike as it sits now: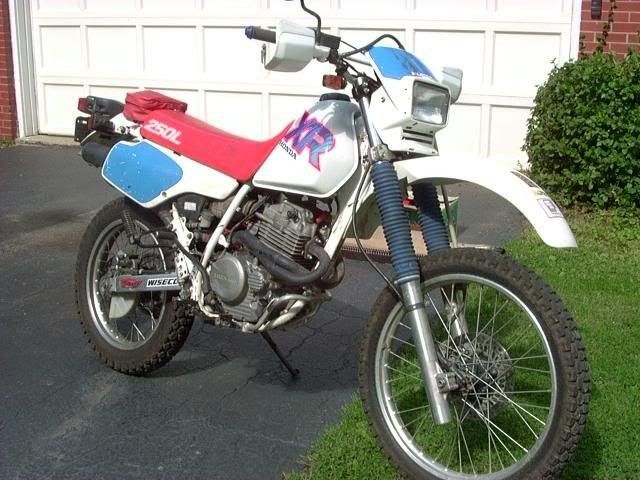 A little drawing that I did in MS Paint of how it will look when I'm done. If this is your bike, thank you for posting the picture.