Earlier in the year I picked up some Goldens to run in the OVRP and SMEC races. I had never used them before, but didn't hear great things. I saw a few friends try them with mixed results. I wanted to try them myself. I am racing against some people for money this year who will see this, so I don't want to give away too many details but I do want to give what I found as a general guideline for other people thinking of trying these so you know what to expect. Disclaimer: I am not a professional, take this as you please. I also do not get paid by SMEC, OVRP, GoldenTyre or anyone else to ride. I'd love to know if you find anyone who will :lol:
Bike:
2004 KTM 525 EXC
17" Front and Rear
5" Rear
Stock suspension, stock engine
Tires:
GoldenTyre Racing Pro 120/70-R17 Front
GoldenTyre Racing Pro 162/55-R17 Rear
Track Conditions:
~70-75F
Clear, Sunny skies
No wind
I had these Michelins on my bike before this and really liked them.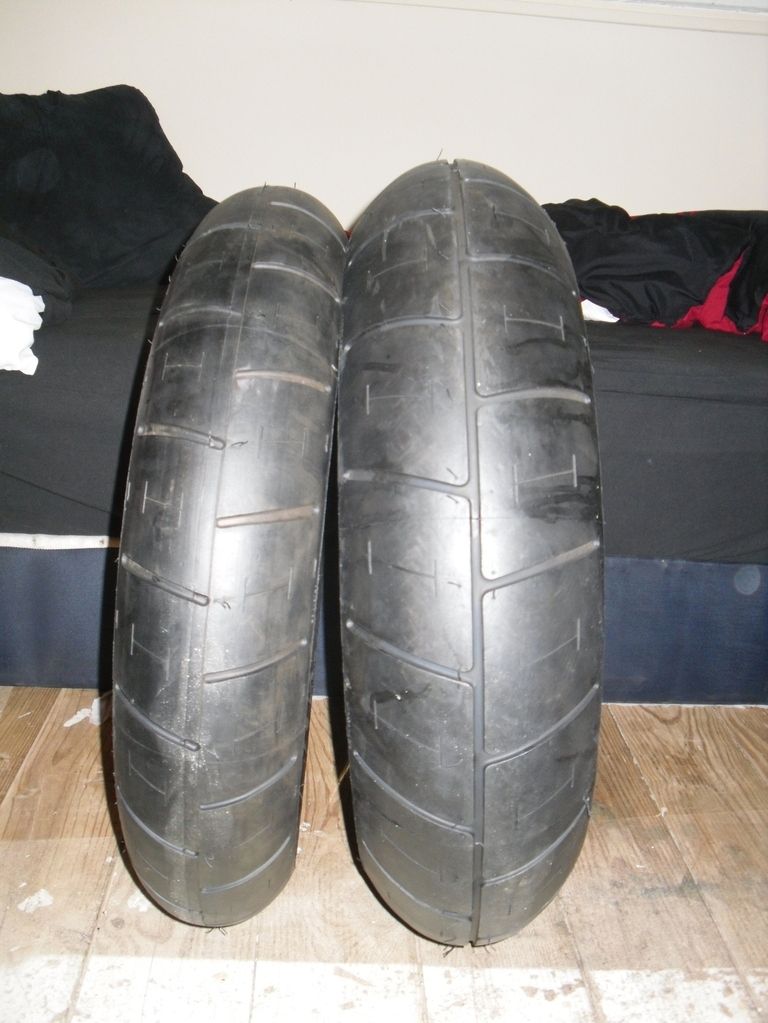 Goldens Mounted: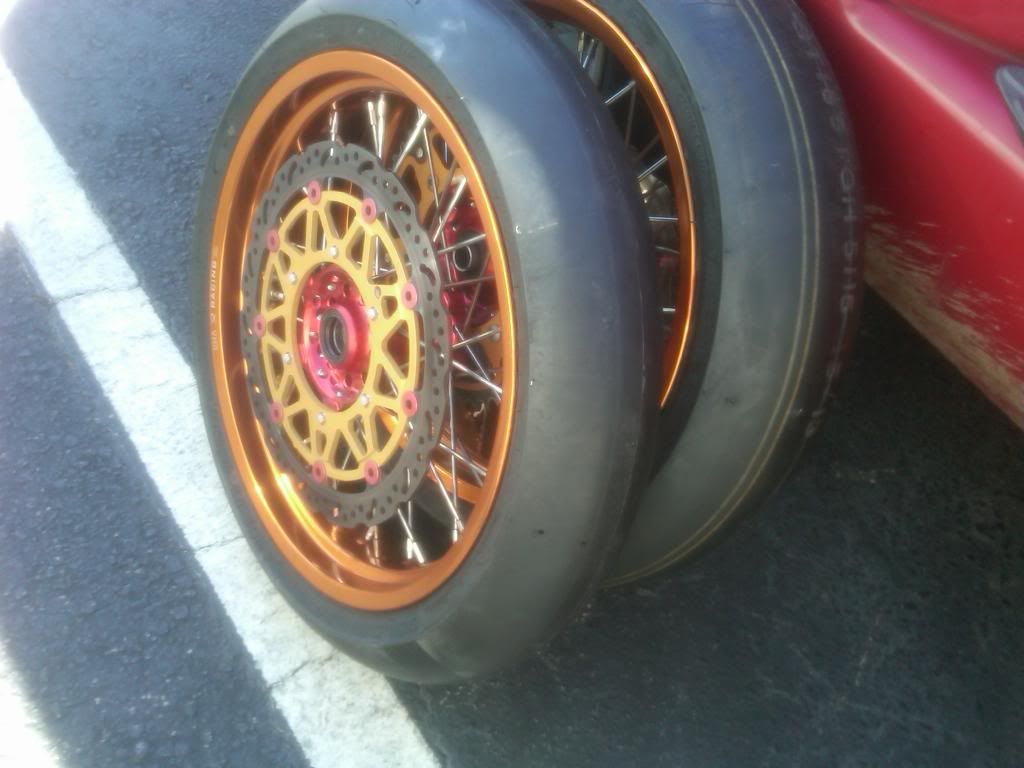 Michelin is kind of known for pointy front tires and soft carcass constructions giving quick heat up times, quick turn in, and a good bit of movement before totally losing grip (forgiving). Some people like those things, some people don't, but that's what I came to enjoy and was used to. It was going to be pretty hard to beat how well setup and comfortable I felt on those tires. I went to a track I am very familiar with and have been to probably 5-6 times now. Jay (smythe) gave me some advice on what direction to go with the setup when I bought the tires and it was definitely good advice.
My riding impression, after working on my setup to get the tires working right, I actually quite like the tires. What I find to be important in a tire is obviously grip, but most important is some sort of feedback before grip goes away. The Michelins I rode on would squirm and pump before they finally squat and just slide progressively. The front Michelin would chatter pretty hard at the edge of grip. The Goldens give you plenty of feedback and have plenty of grip, but the behavior is very different. They do not squirm or pump; they chatter. Depending on how ham fisted you are will depend how bad it is. The biggest thing I found is that the Goldens really reward smooth riding. If you ride really smooth and slowly approach the limit you will have what feels like a much longer time to react to the chatter, and the chatter is greatly reduced. Physically, it makes sense and you really want to ride as smooth as possible anyways. They almost force you to develop better riding habits. The difference in behavior I found was that while both Michelin and Golden fronts chattered, the rear Golden chatters while the Michelin rear squirmed. Personally, as long as there is ample warning before the grip goes away I am happy to get used to it and continue pushing. I do believe I experienced that with the GoldenTyres.
The tyre profile is not lazy. I got quite used to the very V profile of the Michelin with quick turn in and sort of single groove of grip at lean. The GoldenTyres don't seem to turn in any slower as far as I can tell. I don't know that they're any taller than the other race tires out there, but the rear does seem a little narrower. What effect this has on the behavior or grip I can't say exactly, just an observation.
When I put them on and went out of the first time I didn't change my setup. I found these things:
- Rear grip in slow corners was an issue
- Rear chatter in fast corners was an issue
- As you change your setup to optimize rear grip you will then run into front chatter as you go faster.
I don't want to say how to fix the chatter, but I will say that I was able to almost eliminate it. By the end of the day I was just making changes to compensate for my increased speed and comfort. I don't run a lap timer but I think this picture will show that my setup, while not perfect (i'm not professional!) wasn't that far off.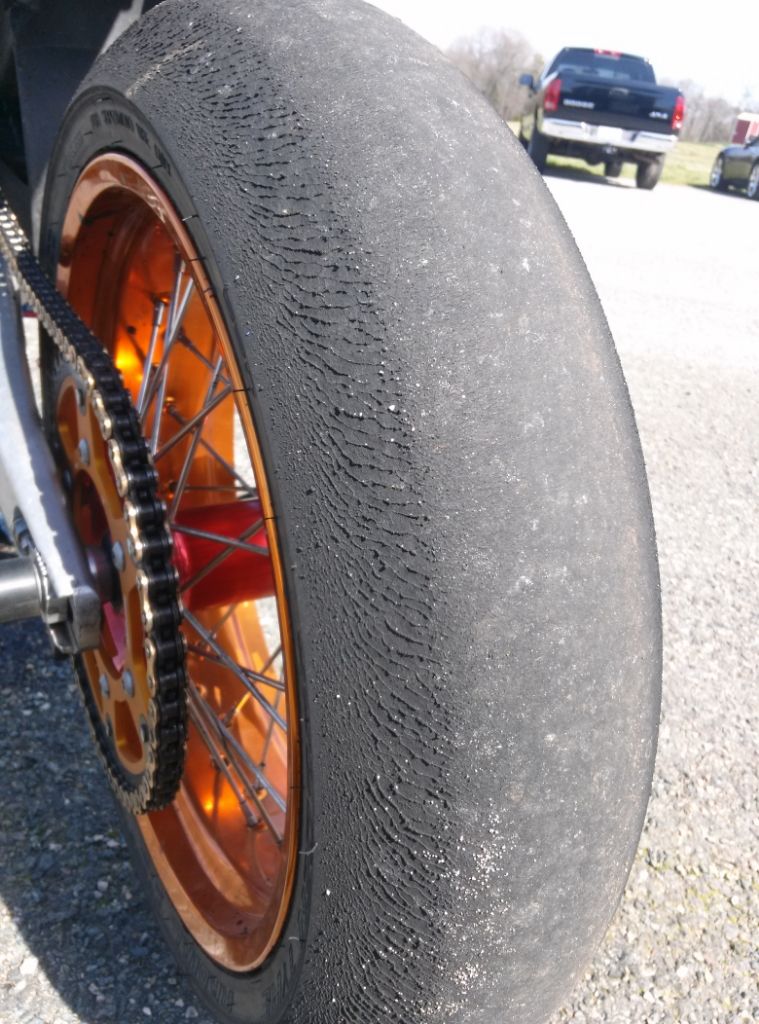 Bottom line: I plan to continue using these tires.