Well time for another step in the process towards....
wait...what's the goal again?
When I bought the bike it had a lousy little UFO headlight on it--with crapped out rubber straps. Originally I thought, "What the hey, let's replace them straps for $20." Then I drove it at night.
Yeah, that ain't gonna work
I thought. I'd have more light using an oil lamp on the end of a broomstick.
I looked around and settled on a newer style KTM light, and an HID conversion--in that order: get the light, customize it, figure out the wiring, mount it, (and later) remove it and do the HID conversion.
So here's the original UFO light. Gonna try to eBay it for a few bucks and fund the new speedo.
I bought the KTM light on here (from Yack, who's a great guy), and got it on Saturday.
This is what it looked like out of the box.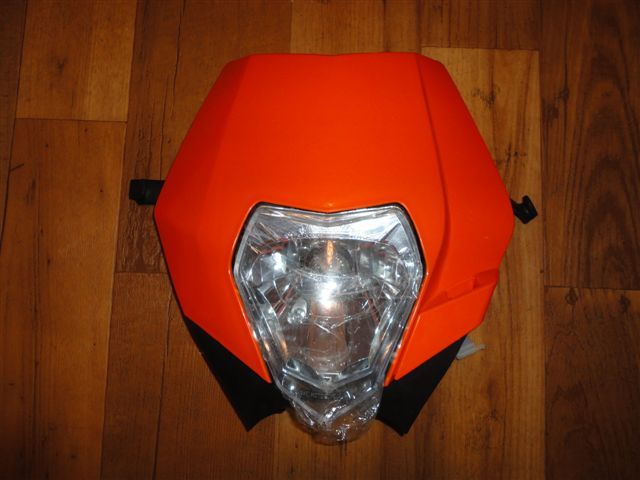 Time to get to work! I dissembled the whole thing, which was really easy--three screws.
Another screw held on the brake line bracket and that came off easy too. After that I went to work on the orange plastic with a scotchbrite pad to remove all the gloss.
I did half at a time for a decent photo shot. Truth be told, I'm more photog and less of a shop guy...this stuff doesn't come naturally.
Half-n-half: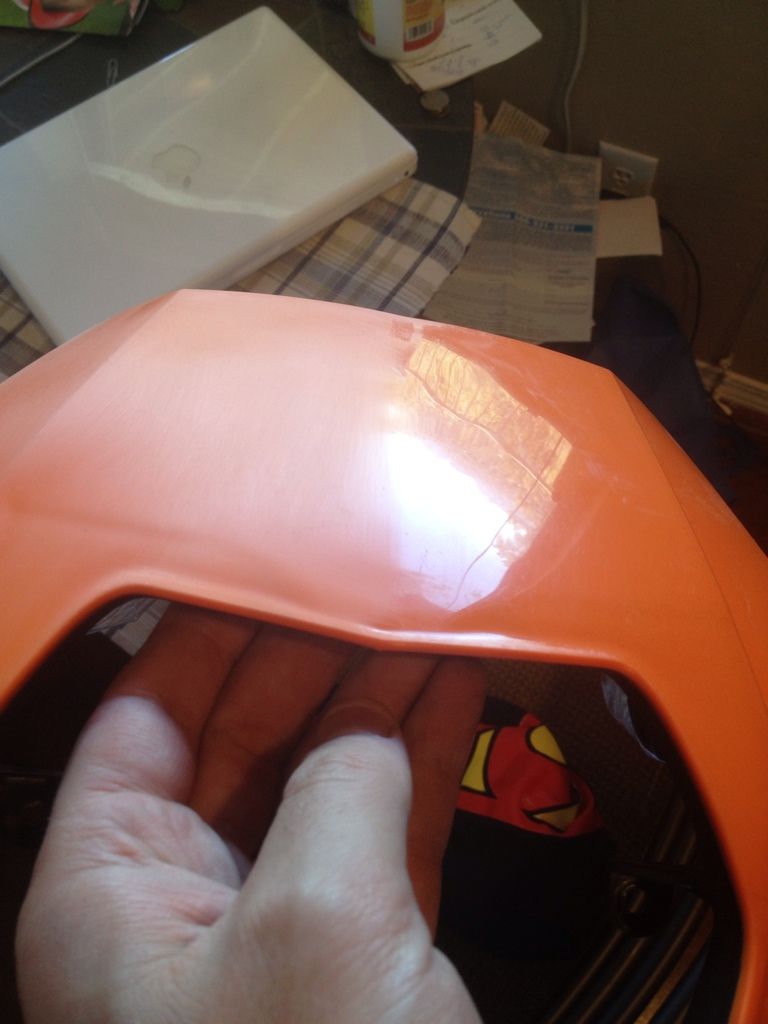 I did the back also, and rinsed it off, went over it again, rinsed it, and did a final wipe down with rubbing alcohol to get rid of any grimy fingerprints or what have you.
I also wrapped the rubber straps with baggies and taped 'em shut to protect the rubber from paint and other nastiness.
Time for a first coat! I used Krylon Fusion for Plastic, in a satin black. From personal experience I learned that laying this stuff on thick will make a mostly-gloss finish, so I went super light with every coat. I did TRY the bed-liner that so many people have spoken so highly about. My guess is that it's probably hella durable, but I wasn't digging the texture, so I scrapped that idea. It would look too weird next to the rest of the bike. First coat down! No runs, no drips, no errors.
After the first coat I went and played Borderlands for 20 min, and then came back and did a second coat, just as light. I repeated this cycle probably 6-7 times.
I did the same thing with the brake line clip, only I painted it white with some rustoleum plastic paint I had on hand. It's quite a bit smaller so I only did 3-4 coats.
After a number of coats...Dark Knight anyone?
I let it sit over night in the garage. I tried to bring the white piece in but my wife yelled at me because it was hot boxing the house.
Next morning I threw down the first clear coat, a flat Krlyon clear coat. I was afraid the satin would be too glossy when I originally bought it, but given the light coats at intervals it stayed very nicely satin. Even so, I threw down the flat coat to help protect the plastic. But not before setting everything in place (no screws, just laying out) to see the look so far. Me likey!
After coming home from church I threw down 3-4 more clear coats, light and slow.
However, I noticed weird whitish "ghosted" patterns appearing that seemed to get more pronounced with every spray. I wasn't digging it much, so I threw down another two light and intervaled coats of the black again, and it actually looked a lot better than I thought it might. Final coat:
After the last happy coat, I went to my bike and started removing the old UFO headlight. One of the straps broke, so I figured this was make it or break it. As I pulled the old headlight off and grabbed my Clymer manual I remembered what the seller had told me about the wiring: someone had royally bollocksed it up.
Maybe that's an understatement.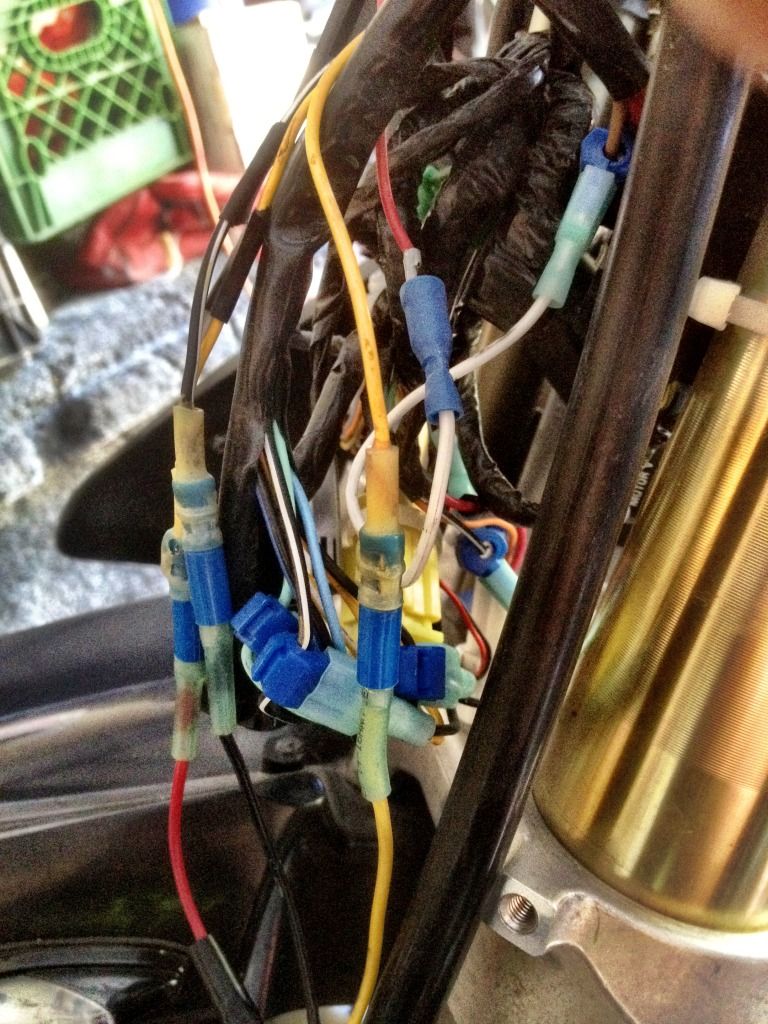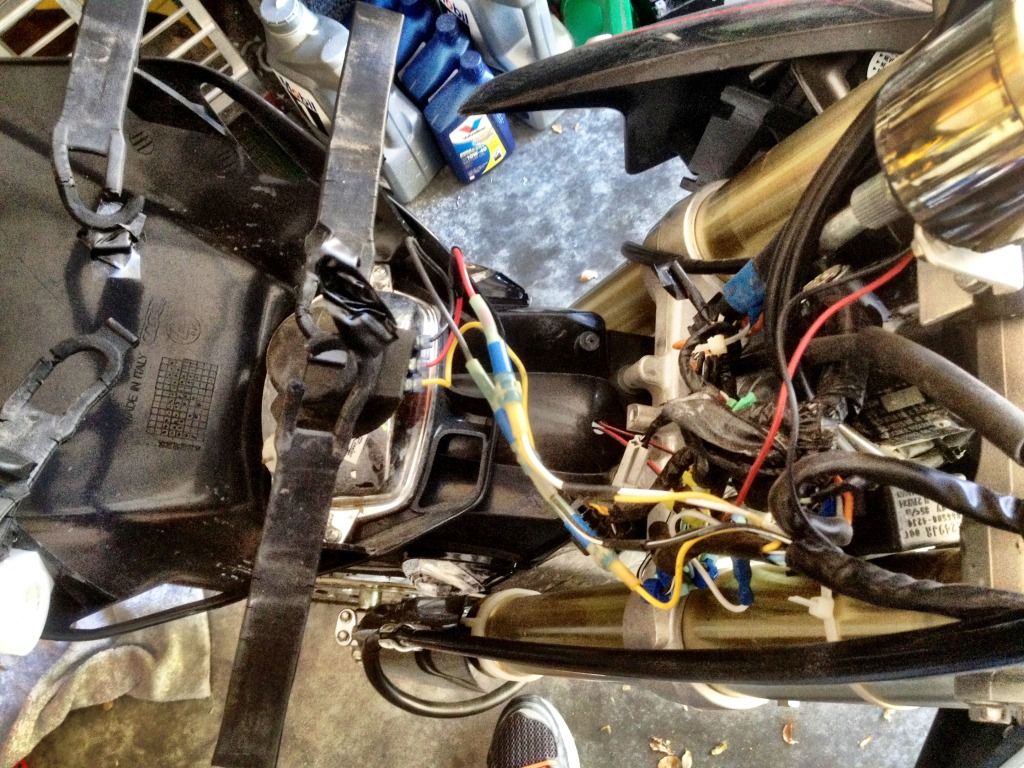 There's vampire clips and other stuff that doesn't look like anything that came off a Suzuki assembly line. Worse, the wiring had been added to, so the colors and patterns in the Clymer manual didn't match the wiring mess reality I was looking at.
After a lot of head-scratching and multi-metering I figured out what my leads were, why only the brights worked on the old UFO light, and what I needed to do to get the KTM light running at 100%. If I had the know-how, money, and time, part of me screams just to get an OEM wiring rig off of eBay and redo the whole front section of wiring. But for today, I just settled on getting the low beams and high beams working on the KTM.
After getting numerous other wiring-related issues solved (it's never simple, is it?)
the main task became wrangling everything into a position where the light could sit in its proper place. Throttle cables, clutch cable, and wire mess all got finessed around a tad to make room for the giant BA20D bulb and reflector unit hanging off the back of the light assembly.
Finagling mode:
At long last everything slipped into place and the light was where it needed to be.
Time for a spin and a few shots!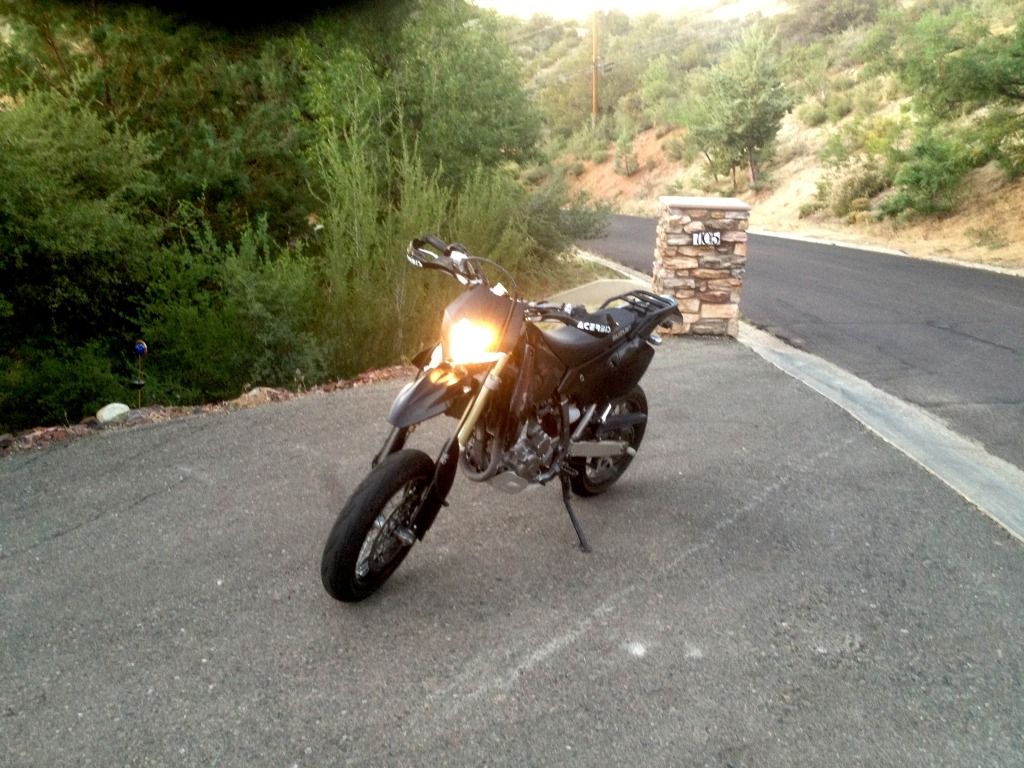 So yeah. There it is.
I guess it's a project. But it works, and it's far more effective than what I had on there.
Given the (bad) reputation these KTM lights have, that's saying something about the old UFO light.
The HID kit (35W, 5000K, H4) from DDM tuning will be here probably Wednesday.
Then all this comes off and I try to mod the $30 plastic ring that holds the BA20D bulb in place, and make it fit an H4 bulb. I found a .doc write up of how to do this on an Aussie forum. That will probably be DRZ-400SM mod 3.5.
All in all, I like the look and I'm impressed with the Krylon Fusion. I think just about anybody could do this mod if I could, and I think most of you all could make it look far, far better.
Anyway. Thanks for reading, and I hope this helps some DRZ owner out there looking for ideas, inspiration or a guide to headlight swapping.
I'll try to dig the T3i out tomorrow and take some real pictures. These have all been with the iPhone using Camera+, which yoinks up the quality imho.
As promised: