Hey everyone, recently completed an EVO2 install on my new 690, but have some questions not covered in the instructions.
1.) Hose from Oil Separator to Air Box...instructions say to disconnect (makes sense, airbox being deleted) but then don't say what to do with the open valve from the oil separator. Just left it open?
Picture of what I'm talking about.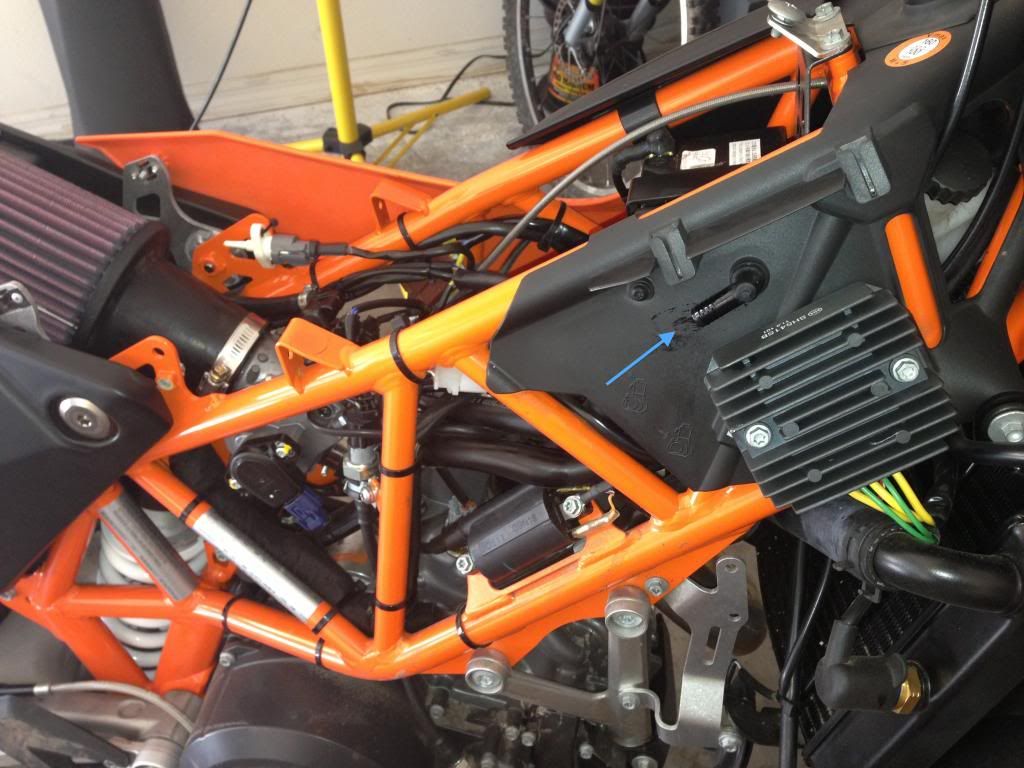 I tried plugging it off, but apparently that was the wrong move because after riding for about 50ft the clutch cover forcefully separated itself from the bike. So this obviously means it's venting positive pressure from either the crankcase or the valve cover which is not being redirected back through the other hose. (one-way valve?). Do you just let it vent to atmosphere? I zip tied a piece of cloth over it and went on a 100 mile ride and when I got back the cloth was saturated with oil. Not dripping or anything major, but definitely moist and brown. I ride through a lot of dusty areas, so I have concerns about just leaving it open as in the picture.
2.) The instructions say to mount the air filter to the "racing" bracket show in the picture below with a supplied bolt, but on my 2012, there's like 1/2" between the end of the filter and the bracket. On other EVO2 installs I've seen they seem to mate fairly well.
If I mount the filter to the bracket it doesn't reach the TB.
Anyone else have this issue with their filter?