Hey all, my dad has tasked me with getting rid of his bike. Thanks to some helpful folks, here we have a 2009 SMR510. My dad has had this bike for almost two years now, and it runs great. I've ridden it twice, and I think it's safe to say that it's plenty fast for street riding as is, and probably better suited for track days and the such. I have a DRZ400SM, and this bike puts my bike to shame.
I am selling because my dad is getting too old to ride anymore, and I can't afford to buy it from him.
The good:
The bike only has 1592 miles on it.
It runs fast and strong.
The title is clean and the bike's never been crashed, dropped, or raced.
It actually WAS ridden around town by my dad, who never even leaned it all the way over.
The bad:
My dad took this bike on a trailer down to TX last winter. It got all full of road salt during the drive, and as a result has some corrosion and rust here and there. The chain is a bit rusty on the surface, the engine has some outer corrosion, and the bike overall could use a good cleaning and lube.
He also drilled out the rivets on one muffler, for unknown reasons. You'd have to ask him about that one.
Now, here's the deal. This is a killer bike that has a ton of potential. Yes, it's been exposed to road salt and isn't shiny in spots, but it's crazy fast and has less than 1,600 miles on it. I'm handling this sale for my dad, and although I know I won't get $8,500 bucks (wink-wink):lol:, I'd like to get as much as I can for him. He's a good guy, he deserves it.
So since I'm new to the selling of motorcycles online, let's start the bidding at $5,000. I am not sure if this is a reasonable price or not, so PM me with offers/advice.
My name is Maxwell, and although I'm new here, I have excellent feedback on eBay, and will be willing to discuss matters over the phone, email, etc. I'm an honest guy, and would be willing to travel up to 100 miles from Valparaiso, Indiana if that's what it takes. I'm also a decent photographer, and would be willing to take closer pictures of whatever you'd like, my wife excluded.
My eBay name is Edward678, and my email is czekalaATcomcastDOTnet.
Pictures will follow:
Dad and bike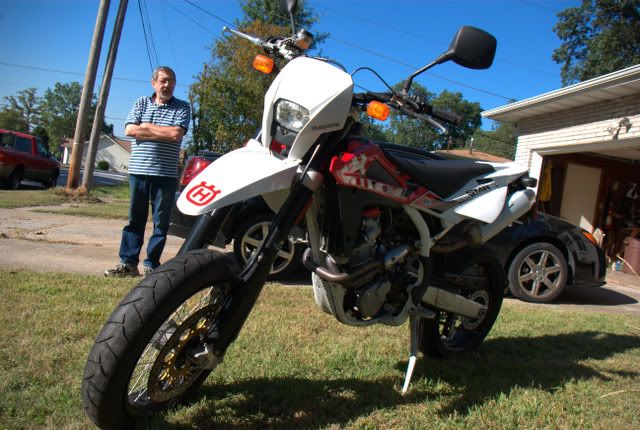 Really! 1,592 miles!
See surface rust on rear caliper, will almost certainly disappear with one brake application.
Some of the worst corrosion can be seen here:
Anyway, thanks for checking out my ad, PM me or email me at czekalaATcomcastDOTnet, and let's get some offers rolling in! Thanks guys!