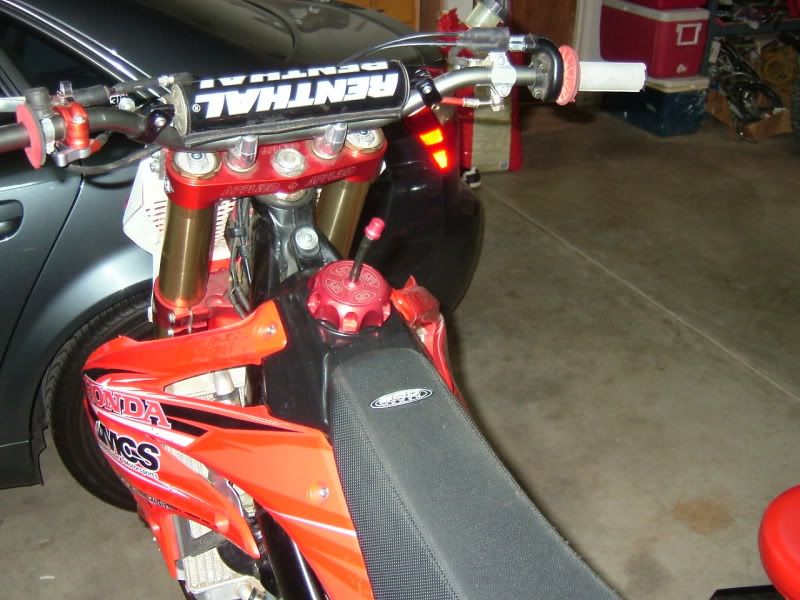 You are looking at my dream bike going up for sale. I picked this up from the Dealer and went home and took it completely apart. If you have ever seen a "Biker Build-off" episode, that is what this bike went through. Here is a list of hardware and mods done added or performed on the bike:
more pics:
http://s42.photobucket.com/albums/e317/nratner/2007 Honda SM/
*Complete powder coat for all frame components, linkage, brake calipers and kickstart
*Applied Racing 22mm offset (-2mm from stock) full Triple-Clamp set
*Moto-Master 320mm floating rotor (also custom powder coated red, standard is orange)
*Moto-Master oversized SM caliper (powder coated red from stock orange)
*Magura 190 Radial Master Cylinder Brake Assembly---this thing is a must have for SM
*Steel-braided brake line
*JE 13.5:1 Pro Series High Compression Piston (reinforced for race motors)
Megacycle Cam--This thing is unreal and blows HotCams away (IMO)
*Custom Port and Polish work on head with Kibble White valves
*Applied intake kit
*R&D Carb Bowl with adjustable leak jet--gets rid of all bog and increases bottom end
*Boyeson High-flow water pump
*K&N Air Filter
*CHM Supermoto Specific Exhaust
*Isotropic Surface Finishing for the entire gear box--smooth finish for better shifting and durability
*Complete Hinson Clutch Hub, Basket, disks and Clutch Cover (as seen on pic)
*STM Slipper Clutch
*JD Ignition Box (programmed SM i.e. over rev and lots of power!)
*Works Connection Elite Perch Clutch Lever with Hot Start
*Excel Takasago Rims, Buchanan Spokes, and Talon Hubs (anodized black and red)
**Front-->16.5" and Rear is 5" wide by 17" and TUBELESS
**Bridgestone Medium compound tires with one race weekend
*DID Gold Chain
*Rear "Rabid" axle slider and spacer
*Front Rhino axle sliders
*Custom fluid catch system for the track
*Everything is safety wired
*Works Connection dress up kit
*Aftermarket 1.6 Radiator Cap (stock is 1.1)
*Aftermarket Step-Seat
*Cycra Air-Flow Plastic Kit (fenders and shrouds)
*Cycra crash guards
*Works Connection Radiator Braces and Frame Guards
Countless hours of testing and modifying suspension, engine tuning, etc.. This bike will clear a 50ft table, hit whoops, and back-in to a 90mph turn... In CA we have a huge variation in tracks from the big Stateline SM dirt to the parking lot style at Fontana and don't forget the gnarly high speeds of Horse Thief.
I have a 17" front Excel Takasago with Red Talon hub that matches the bike (for tracks where a 17" is better or for street riding).
I will also throw in a pair of 36" TLD Supermoto Pants and a Large TLD SM Speed Jacket for protection.
I also have several front and rear "take-offs" that can go with the bike so you can start practicing right away.
My goal with this bike was to build the most dependable, yet fastest race bike I could and I could not have done anything more. I only practiced a few times and ran the bike for about a season and a half in the STTARS series and AMA ProAm events. Unfortunately, the bike has just been sitting for almost a year and I don't really race SM anymore. I can't stand to see it sitting in the garage anymore and it needs to go to a good home where someone will take it out and open it up!
You can get a good idea of HP from all of the mods, and I can tell you first hand that down the straight, it will keep up with almost any AMA "pro-built" bike. My mechanic and I worked the whole plan out for this bike and scheduled maintenance and the only problem I ever had was a hot start issue.
Although I love this bike, it needs to find a new home. I am willing to look at trades but am only looking for something as beautiful as this...An example would be a Ducati Hypermotard "S" model or something of that nature. Maybe a Super Duke or maybe you have a decent Harley that needs someone to finish it out...
I am asking $6,800.00 for this bike and I can tell you from the receipts that I have, I put well over $15K into this bike...This bike is the real deal. If you want to have the fastest bike and no more excuses for losing at your regional events, this is the bike for you...