Discussion Starter
·
#1
·
Well here we go... Sumo build with no mechanical experience!
Here is the bike.
I have been doing some trail riding with it a bit while waiting for parts. Was a blast, but way to much for the tight stuff we ride around here. I ride much cleaner and faster on my 200mxc.
Can't wait to get this thumper on the street!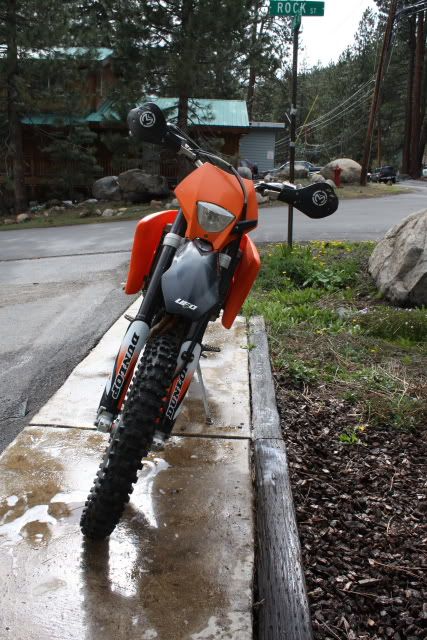 This bike has CA plates and is registered already, just have never physicaly put the plate on.
I am starting out with just replacing tires/drivetrain and installing a fully legal lighting system. Eventually I am interested in re-working or replacing the suspension, changing out the exhaust and jetting, and lastly putting new plastics on (stock tank too maybe...)
The parts list thus far...
Motostrano Bare-Bones Sumo Kit -
http://www.motostrano.com/sucokibabo.html
-Warp 9 17" Wheels
-Tubes + Tires
-F+R Rotors
-Sprocket (came w/ 40t instead of 44t, not my choice),
-Caliper Relocator
-Acerbis Sumo Front Fender
14 tooth Renthal Sprocket
DID 520VM Gold X-Ring Chain
http://stores.ebay.com/MotoXoutlet
($95 shipped from these guys)
Custom OEM Spec lighting kit from Dr. Enduro -
http://doctorenduro.com/index.php?main_page=dual_sport_conversion_kit_ktm
-X2 Dual-Sport Headlight -
http://doctorenduro.com/index.php?main_page=dual_sport_enduro_head_lights_x2
-Wiring Harness w/ IC relay
-Handlebar Switch
-Horn
-LED brake light w/ license plate holder/light
-Flush mount LED rear blinkers -
http://doctorenduro.com/index.php?main_page=led_turn_signals_flush_mount_smoke
-Oil pressure switch (for brake light operation)
Zeta protectors w/ LED turn signal handgaurds
http://myworld.ebay.com/ebaymotors/motorheadzone/?_trksid=p4340.l2559
($110 Shipped)
Dual-Star Mirrors -
http://www.dual-star.com/index2/Equipment/adjustable_mirror1.htm
Some of the parts...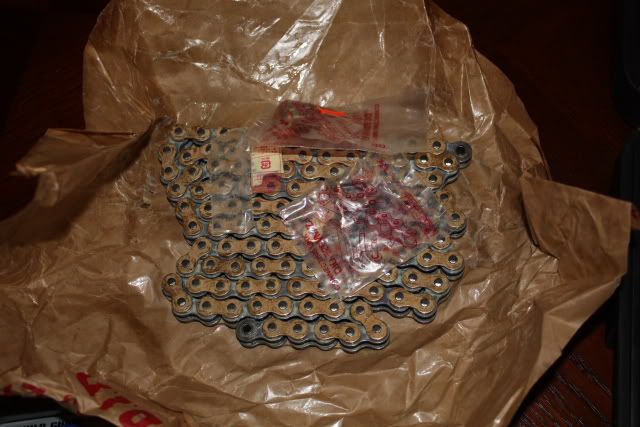 I had to race the daylight today, I don't have a garage so I can't really work past sunlight.
I got the front wheel and fender set up with out any problems!
Question #1 - I have been told I might need to slide my forks up a little bit. Is this true?
The rear was not as sucsesful. I got the wheel on just before complete darkness, so no pics. I broke my master link, so now I think I am driving to Reno tomorrow. We dont have any motorcycle shops around here.
Q #2 - I could not get the front sprocket off. How is this done? I was told it is reverse threaded. I tryed both ways and could not budge it. I had it in 1st and the engine was just turning over. My chain was off while trying this, does it need to be on?
Well thats it for tonight. I am still waiting on the lighting kit, should be here any day. I am not looking foreward to that, I have never owned a bike with a light or battery before.
I have the next two days off. Tomorrow I want to get the front sprocket and chain worked out, get a new pic, and wait for my lighting kit!