2006 DRZ-SM, 4500 miles
Athena 440 big bore
Hot Cams intake and exhaust cams
Yoshimura full system
39mm FCR carb
3x3 mod
Pro Taper handlebar
ASV levers
axle sliders
DRG wide pegs
baja designs turn signals
acerbis shorty front fender
moose bark busters
galfer steel braided brake lines
michelin pilot powers, plenty of life left
pro moto billit rack with removable top box
new battery
Sweet supermoto. Great first bike or good cheap track bike. Not a motivated seller so lowball offers will be ignored. If you do your homework you will know how much money is in this thing.Not interested in trades 3800 Firm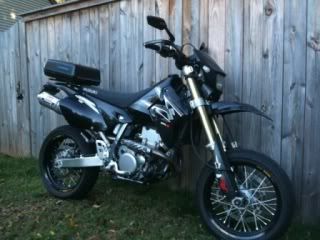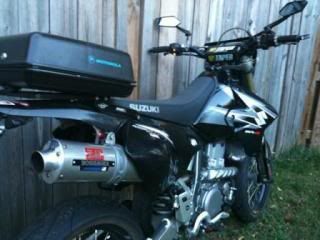 2004 DRZ110 Supermoto
ENGINE
TB parts 143cc kit
TB parts Race head
Mikuni VM 26 carb
TB parts Intake
TB pod filter
TB race cam
TB parts 55mm stroker crank
Powder coated dress up parts
13/15 tooth front sprockets 33/37 tooth rear
CHP bump start
CHP manual clutch kit with black ASV lever
aftermarket skid plate I powder coated gray
Brand X peg bracket and pegs and pegs are powder coated the same grey
Cat 5 cradle
Folding tip shift lever
TB 4th gear drum
New tusk clutch plates and heavy duty springs
Tak primary gear
HD shift star
BBR big bore pipe
Less than 2 hours on this motor!
SUSPENSION
Pitster front end with pax bearing kit
12" and 14" front wheels
Extra calipers and rotors
Sano + two swing arm new bearings and chain slider just powder coated black
Stock rear wheel with hub and hoop powder coated black
I shock non resi no 3 rides on it
Axles are drilled and taped and come with sliders
BBR chain slider
BODY/FRAME
Stock frame no title I have the bill of sale from the dealership
Black plastics
Red baron graphics
Tall seat
Protaper bars
asv clutch lever
I'm sure there is more. Bike would come with a set of tt92's with one ride and a set of 12/12 trials tires for indoor and I should have some dirt tires as well
$1600
2 Rides on this motor
Reason for selling I'm lame and spending too much time and money on the boat. boath need nothing but the dust blown off them.
703-981-7581 JD