Discussion Starter
·
#1
·
I've been searching for a decent bike to get me back and forth to work while I rebuild the trans in my daily driver. Now I'm a family man and it isn't just about me so some compromises were in order to make the wife happy. Before I even started my search I had to be sure we were on the same page and agree on a total price. Money isn't a good topic to argue over so this was a prudent step in my opinion. Taxes came in and we decided that we would have $1200 left over for "play" and that I could have it for a bike. So what can you buy that is street legal for cheap??
I searched Craigslist, eBay, local classifieds, all over the place online to try and find the best bike I could that fit the price range and that I could get on the road quickly. I tried to find a KTM but for that price all I found were basket cases. DRZ's can be had for that price but mostly the E and S versions, not the SM's. However I would have had to find a way to get one home from either Texas or Louisiana. I was forced to look at older bikes in order to keep out of the Nighthawk, Buell Blast catagory. I opened up my search to all enduro style bikes on or off road and looked at a few KLX's, a few DR350's and was about to drive up to Pennsylvania to check out an '85 KLR 250 when I found a 1999 KLR 250 about 20 minutes from home. I was really feeling discouraged at that point and the search was really stressing me out. I missed a few killer deals by minutes in some cases. This bike for some reason caught my eye and I called immediately. Three days later the gentleman called me back after repeated emails and messages. I really thought I had missed this one as well.
I set up a time to go see the bike last Tuesday immediately after work but there was no time to get to the bank so I went with my best bargaining tools but no cash. The seller was adamant that he had recieved several calls and I shouldn't wait to see it. (Good tactics on his part but stressful for me) I ran out the door at 6pm on the dot and was in his front yard shortly there after. The bike as dirty, old dirt too, not from a recent ride. It was stone cold so he hadn't been prepping it before I got there. The tires were dry rotted but inflated, and it had a small dent in the tank that wasn't in any of the pictures on Craigslist. He was a good guy and offered me a cold one while I looked over the bike from top to bottom. He even tossed me the key and a helmet so I could take it on a ride. We hadn't even talked price at that point and he had no cash in hand when I left his driveway. I didn't push it, just a quick ride to see how the clutch felt and to check for braking ability and suspension travel. 15 minutes later I was back and I checked the lights before determining that it was a solid all around bike.
The haggle: if there was one. I didn't beat him up on the price. He was well below blue book for it and it wasn't beat up, just dirty. A handshake sealed the deal for $1200 and I left with the key to the bike and a promise to come back with a certified check.
I picked the bike up on Friday afternoon, dropped off a bank check, and dropped it off at work so I could clean it up and have access to my tools. As soon as it hit the pavement I kicked it once, fired it up, and went straight to the trails for a short blast though the woods. First impressions now that I own the thing are as follows:
-Its front end heavy
-The front brakes are terrible due to lack of use
-The back tire is trash and the knobbies are almost gone
-The chain is sloppy
-The headlight is blue (likely a Pepboys special)
-Handlebars are short and the drivers area is cramped because of it.
-It put a huge smile on my face until I had to put it away.
Here's a pic to prove that I do have it, crappy cell phone pic, but I was in a hurry.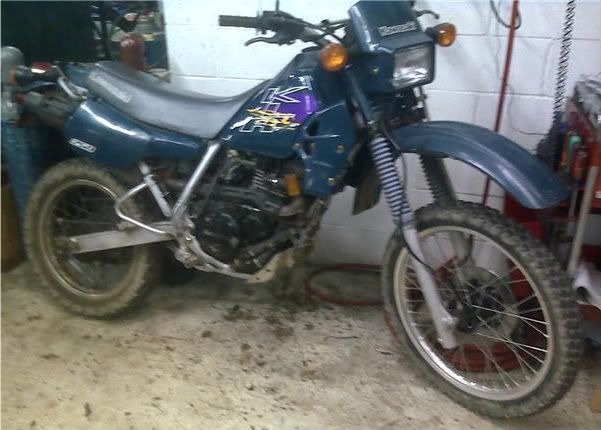 I've already started looking for the things I need to get it through MD state inspection so I can get that out of the way. No mods will be done before it's tagged and on the street for a little while so I can get aquainted with it.
However I can daydream a bit so here's what's in store:
-KX125 inverted forks - $41 on ebay
-KX125 triple clamps - (undecided)
-KX250 rear shock - $7.50 on ebay
-Clutch cover - $15 on ebay
-New bars (undecided probably TAG as they used to sponsor me)
-New headlight assembly - CityX or similar with small Buell fairing
-Cycra front fender (previous sponsor)
-MX Bonz brake snare, cooling kit and vent lines (previous sponsor)
-New chain and sprockets (maintenance items)
-17in front wheel to match the rear. (Found a rear rim to lace to front hub)
-New tires (undecided)
-Smaller lighting and shorter mirrors
-MX style seat (KXF or similar)
-Perhaps a set of XGX graphics (previous sponsor)
Not bad for a lot of searching, a lot of looking, and it meets all of the wife's criteria so I'm happy, she's happy, and I'll be back on the streets in no time. Look for more updates to this project here as I get it street legal and then mod over the winter. Any help or tips are appreciated I'm an old MotoX guy looking to have some reasonable fun on the streets.