[/B]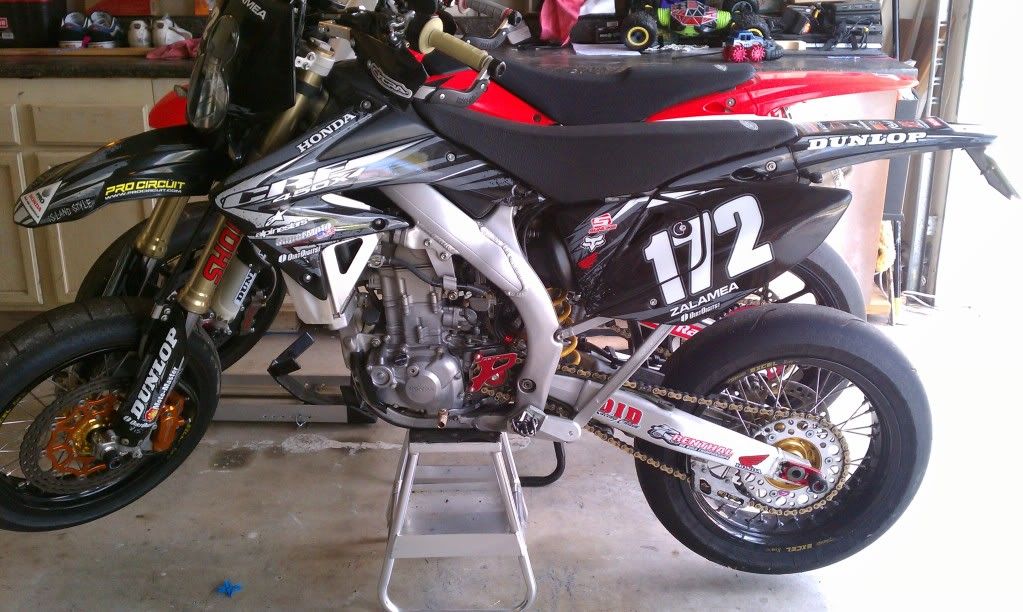 Excellent condition 06 CRF450X CALIFORNIA PLATED!!!![/B]
Very clean bike and adult owned, runs perfect.Full synthetic oils changed every 3 rides (only ridden on the pavement). It's been Rarely ridden the last year, except for a 6 mile round trip to work once a month.
No issues, garage kept and pampered.
-Engine is stock and bike is maintained by a professional race Mechanic. Just recently checked for valve clearance and complete tune up.
-Pro Circuit Full Titanium exhaust system w/ Carbon Fiber Header cover.
-Flex Jet Kit
-Excel Rims (17'' front w/
5" Rear
!) Also, rear wheel was adjusted to minimize wheel slap
-Gold Talon Hubs
-Big Brakes--Motor Master Caliper and Rotor
-One-off Radial brake M/C
-ASV clutch lever
-Scotts Steering Stabilizer
-Pro Moto Billet kickstand. Shortened to Supermoto height. Tucks away under the # plate
-Airbox and pink wire mod done
-Trail Tech X2 Halogen Headlight -wires shrink-wrapped and hidden with proper connections
-Sunline Folding Shift lever, Sunline gas stop, Zeta crankcase saver, billet sprocket washer,
-SM Engineering: Front sliders, Rear Axle Block/sliders and handlebar Sliders
-SME Carb Catch Can Tube
-Cycra full handguards.
-Works Connection Radiator Braces
-TRAIL TECH STEALTH VAPOR COMPUTER KIT: Speedometer, Tach, Engine temp, Clock, Odometer...it does everything! AND the Wires are hidden and laced! (7 Hours of labor)
http://trailtech.net/vapor.html
-Light Speed Carbon Fiber skid plate
-All new Black Plastics with black SGR seat cover
-Full Plastics Custom Stickers made and put on by Dirt Digits...$350+ no bubbles.
-Keiti mini oval carbon fiber-look blinkers (front & rear sets) --wires shrink wrapped and hidden with proper connections
-Epic Supermoto Chain Guide
-push button start option--X model
-also have the stock dirt wheels and tires if intersted.
-Best of ALL...it's Street LEGAL and CA plated!!!!
A Lot of Time and Effort went into this bike...guaranteed you'll have the sickest Supermoto in the canyons!....
Email me for more detailed pics. You won't be disappointed. No low baller please...this bike has a lot of time and money into it and it's a rare to find Plated CRF Supermoto!!!
$6480 Located in Carson, CA 90745.
Text 310 344-2817
Email
[email protected]