Discussion Starter
·
#1
·
I've been pondering this issue for months.
At first I thought I had hit a brick wall.:damn:
But then one day surfing flea-bay... it hit me. There in front of me was the part that would bring it all together. A 300mm KTM brake disc. OMG! :arsenal I thought they were all 260 or 320. I had asked around and no one knew of such an animal.
So after buying back all the parts I had sourced the first time...
I have "dry" fitted the wheel and caliper assy. Easy as pie! All the parts work and line up perfectly! WAHOOOOO!!!!!!
Here it is: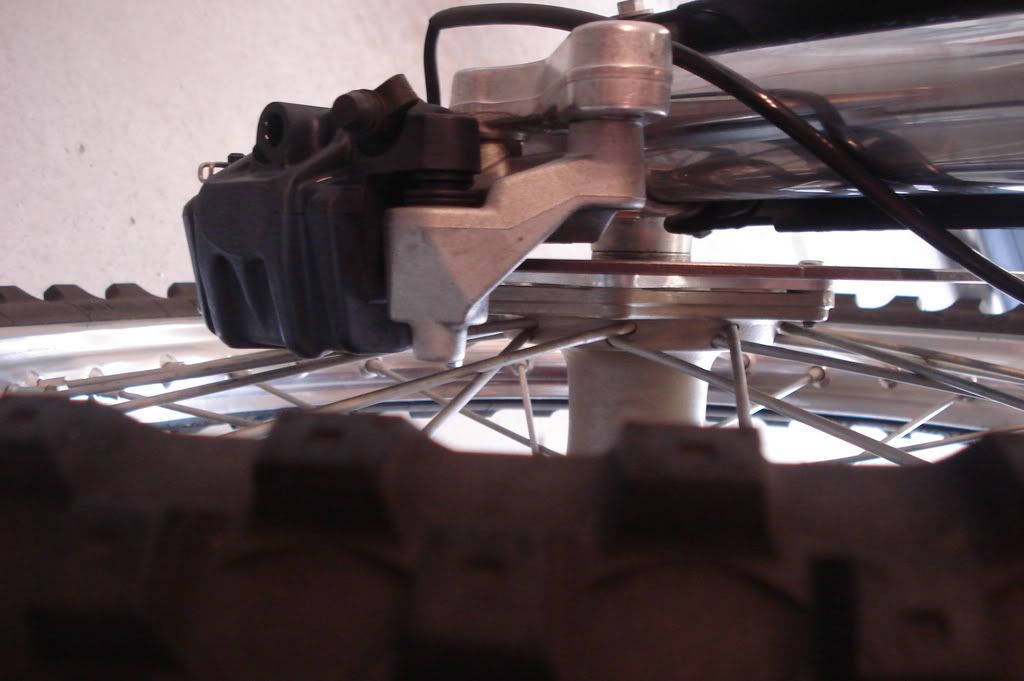 I'm choosing what I believe is the easiest cleanest route. Only one special part needed and no machining or grinding stock parts! My set-up will have a seperate caliper/hose/master/switch set-up that I swap when changing wheels. This way, I take advantage of the "softer" brake feel of a two pot caliper and the smaller/lighter disc, and a matching master.
Here is what this method takes for the front wheel:
A late 90's Adventure 300mm brake disc (used) 45.00
A Ducati Caliper (Monster 620/Sport 1000/Paul Smart) 45.00
A Master from any 2-pot KTM including the brake line 100.00
Brake switch if doesn't come with the above master 30.00
6"x6" piece of aluminum plate (5mm thick) 10.00
Total: 230.00
The brembo caliper and Adventure disc bolt right up. You just need to make a spacer out of aluminum plate. I copied the stock 10mm thick one (actually Gethro down under did it for me). As an alternative, you could just make thick "washers". 5mm isn't enough offset to really worry about shear loading your disc bolts (Inset legal disclaimer BS here). The 5mm spacer(s) go behind the disc in the same place as the stock spacer on the 17"er.
I'm stoked! Finally a clean way to do this!
Hope you guys find this as great as I do..... :twofinger