Discussion Starter
•
#1
•
So I recently traded my '98 GSXR 1100 for an RMZ 250 (small I know but bare with me. I'm only 170lb and thats after the holidays! Plus the MPG is going to be ridiculous!), blue book was almost identical and I figured if I needed to flip it for the cash the dirt bike would be easier to get rid of than a 10+ yr old superbike. I rode in the dirt three or four times this fall but missed being on the street A LOT. So I started looking into doing a motard. As all of you are well aware, old cbr f2 cast wheels make a nice home under a tard, and it just so happened that I had a set sitting in my storage unit from a previous bike. I looked into the requirements for a title change from Dirt Only to Dual Purpose, and in IL where I have the misfortune of residing, the bike laws are pretty lax, just about the only up side to living here I guess. Tail/ brake light, check, have an old led unit from an '08 CBR 1000rr. Head light, DUH, still searching for the right one but eBay is chock full of any style you want for less than $100. ( this might actually work I thought to myself) No turn signals required, SAWEET! One mirror, again the options from ebay are damn near endless. Well, you get the idea.... So I started making sh*t happen.
Fitted the wheels up and lo and behold, the front is damn near a direct fit, stock spacers, axle diameter is identical, only thing needing attention is that the rotor sits too close to the fork and has a 5mm larger dia. than stock. The face of the wheel where the rotor mounts needs to be milled down by 10mm, both sides, one so that the rotor will fit and the other so that my fork guards will go back on lol
Then there is the rear. . .
The wheel fits into the swing arm fine. The axle is only 5mm undersized from stock so a set of sleeve spacers are in order. The biggest challenge here is the cush drive/ sprocket hub. After many nights of research, measuring, more research, more measuring, a few cigarettes and some intense staring:headshake I finally came up with a plan of action. Instead of going through all the BS of trying to make that hub fit, why not make a whole new one?! So thats what I am doing. The wheels and my drawing are at the machine shop as I type this. If all goes to plan, I will be able to show off my new cush hub and fitted wheels within the next few weeks.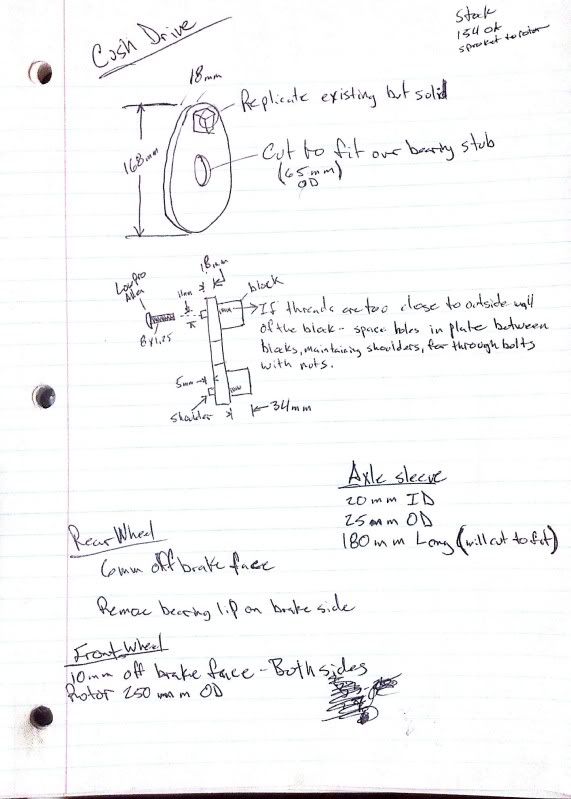 In the mean time, I started with a few other odds and ends. Got the tail light mounted.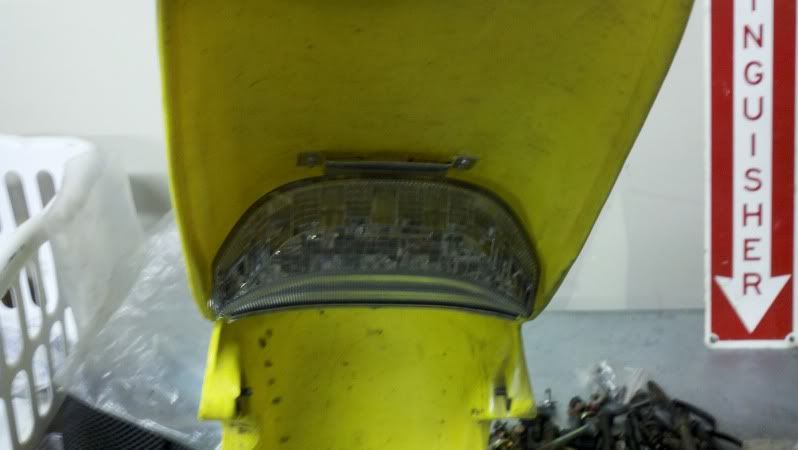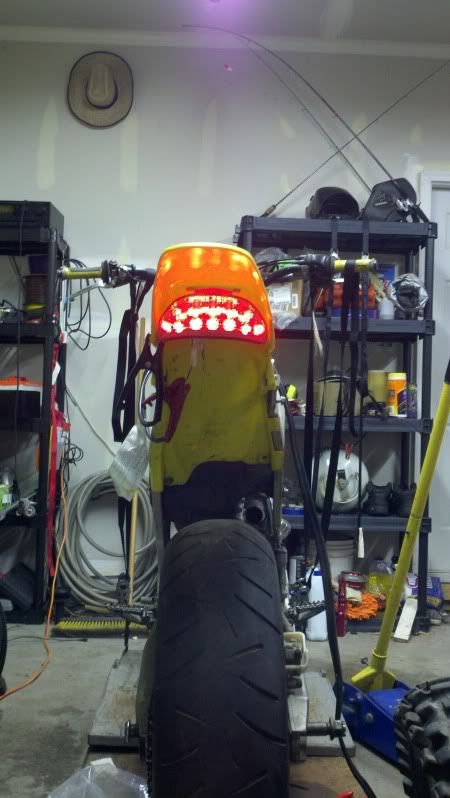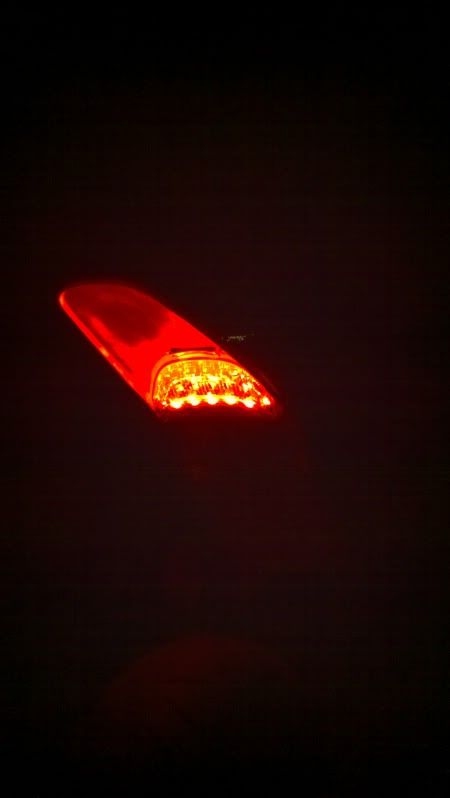 Even came up with a possible head light, not really sure it's going to work but I had it laying around so I thought I'd see what it looks like for the hell of it, feel free to give me some feedback. Keep in mind it would get a custom shroud built around it to hide the ugly plastic. I've not sold myself on the idea tho so any input is welcome
front: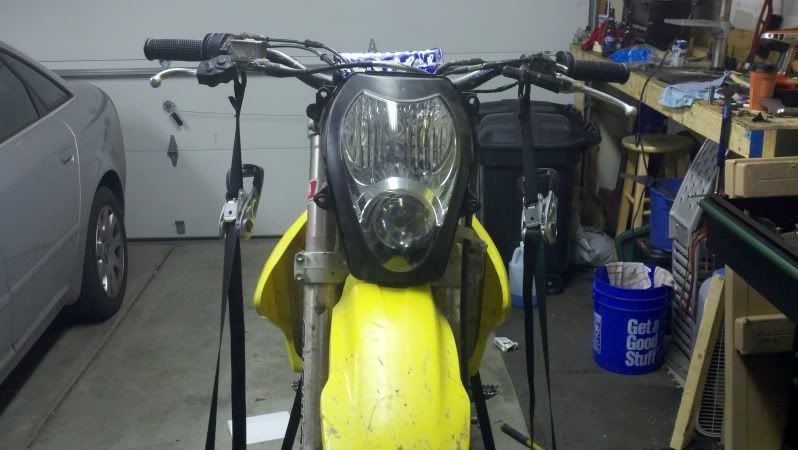 Side: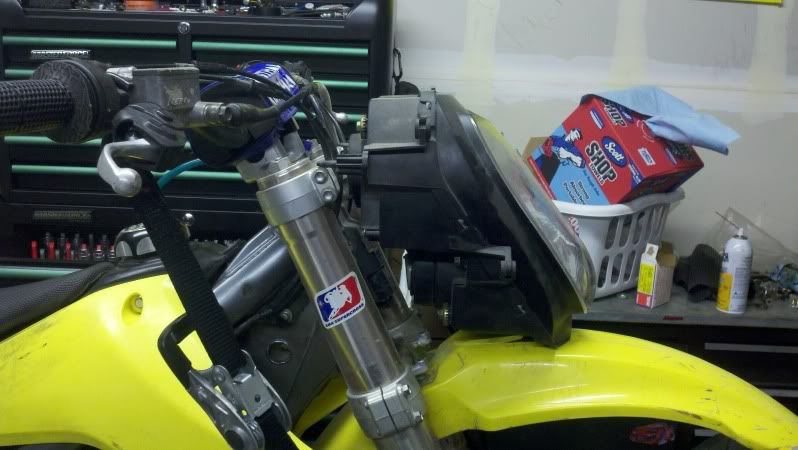 I just re-packed the muffler with FMF loose pack from BikeBandit.com Knocked the noise level down considerably, but probably not enough for the 86dB required for street use so I am looking at the DB DAWG baffle insert, if anyone has any review of that product I would like to know.
I am planning on running a Nimh battery pack in the air box for the lights using the trail tech regulator/rectifier to charge while riding. I orderd some of the H3 replacement LED cluster bulbs off eBay for $8 to try out, NOT WORTH THE POSTAGE!!! Super bright by themselves, but they arent worth a sh*t in a housing. The light doesn't carry at all, like most leds I guess. So I'm probably going to end up with a 35w h3 which only draws 2.9amps @ 12v so hopefully I can get away with the stock stator output since that is the only real draw I'll have.
I should have more pictures soon. Hope you guys can give me some good feedback, ideas, whatever.